North Toole County High School
Classes of 1930 - 2015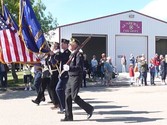 In Memory
Joe Gotttried - Class Of 1937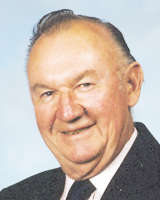 Joseph G. Gottfried, 88, of Shelby, a military veteran and active member of the community, died of natural causes Tuesday June 3, 2008 at a Shelby care center.
Survivors include his wife Irene Gottfried of Shelby; his children Peggy (Dean) Rosera of Kettle River, Minn., Diana Hoffa and Dennis (Sophie) Gottfried of Sweet Grass, Kathy Johnson of Baltimore, Md., and Adam (Robin) Gottfried of Ronan; his siblings Cecelia Neidhardt of Deer Lodge, Catherine Halvorson of Valier, Addy Boltz of Valdez, Alaska, Fritz (Tootie) Gottfried of Maple Valley, Wash., Eileen (Ralph) Wartchow of Cedro Wooley, Wash., Evelyn Wolfer of McMinnville, Ore., and Eddie (Lee Ann) Gottfried of St. Ignatius; a sister-in-law, Midge Gottfried of Hot Springs; stepchildren Rexetta (Charles) Mueller and Frank (Wanda) Spangler of Helena and Calvin (Patricia) Spangler of Shepherd; 16 grandchildren and 13 great-grandchildren.
Joe was born April 21, 1920, to Adam and Elizabeth (Wolanski) Gottfried, in Courtenay, N.D. When he was 6 years old, the family moved to the family farm in Toole County.
He married Marjorie Ann McDonnell on Jan. 14, 1942, in Coeur d'Alene, Idaho, and shortly afterward was drafted into the Army Air Force. After his discharge following the war in 1945, he finished his bachelor's degree in business administration from the University of Montana in Missoula, graduating in 1947. He worked in Ronan for a time before moving to Sunburst for a year or two, and then to the family farm in 1951. Marjorie passed away Jan. 11, 1982.
Joe married Irene Spangler on Nov. 17, 1984. They resided in Shelby and Joe continued to help on the farm well into his 80s.
Joe was involved in several civic and community organizations, including the Knights of Columbus, VFW and American Legion, where he served as commander. He was a member of the Sunburst and Sweet Grass school boards, was a current board member of the Shelby Senior Center, and served as a Toole County commissioner. He was also involved with the Young Democrats, State Education Committee, the DNRC, the R.C. & D., and the Alcohol Treatment Center Board. He was the fiscal officer for MACO and served on the NETA board. He was governor-appointed to the Juvenile Justice Board and the Board of Crime Control and Jail Standards. He also served as secretary of the Coal, Oil and Gas Producing Counties, was a representative for Montana Small Business Loans and served as Montana's lone representative to Washington, D.C., for the Montana Coal Tax Bill.
He enjoyed stamp collecting and poetry and was an avid reader as well. He also was famous for assigning nicknames to his family.
He was preceded in death by his parents; his first wife, Marjorie; and siblings Marian Turner, Lawrence Gottfried and Jimmy Gottfried.
Burial with Military Honors will be at the Sunburst Cemetery.