North Toole County High School
Classes of 1930 - 2015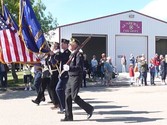 In Memory
Margie Johannsen (Leary) - Class Of 1943 VIEW PROFILE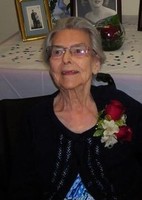 SUNBURST Margie Lee Johannsen Leary, 90, who was born July 19, 1925, at home in Sunburst, MT and was the youngest child of Lillie Foix Johannsen and Cleve Engwer Johannsen, left this world March 25, 2016.
Memorial service will be 11:00 am on April 23, 2016 at the Sunburst United Methodist Church. Arrangements have been entrusted to Whitted Funeral Chapel in Shelby.
Margie loved Sunburst, living on the plains, and sagebrush. She grew up here and graduated from the Sunburst High School. She went on to college for a few years where she enjoyed being an Alpha Gamma Delta member, but then ended her enrollment when she became engaged and married her high school sweetheart, James Francis Leary, in 1945. She enjoyed working with people, loved her work in a doctor's office, and cherished her family and friends.

Margie and Jim lived in Midland, Texas for a few years. Margie enjoyed the Mexican cuisine and the southern drawl. When they moved back to Sunburst, she kept the word Y'all in her vocabulary. In 1967, she and Jim moved their family to Portal, ND where they made their life together and raised their children. Margie worked as a teacher's aide and at the Post Office. Active in her community, she was a Girl Scout leader, the Treasurer at church, sang in the church choir, and was a member of the Crochet Club. She and Jim played Bridge and were active members of the Order of the Eastern Star.
Margie and Jim had four children together: Shawn Patrick, Colleen Ann, Kelly James, and Margaret (Meg) Irene. Margie loved Portal and the people there but longed for the prairie. In 1987 when they retired, the couple returned home to their roots in Sunburst to live near and enjoy family, extended family, and friends. Margie was the President of the Ladies Auxiliary VFW and helped write the local news for the paper for many years. She was an active and willing volunteer in her church and community. Margie always stayed a 'Montana farm girl' at heart and loved to visit the family homestead during spring seeding or harvest.
Margie was preceded in death by her parents; her husband; brothers Russell and Jay Johannsen, sister Virginia Johannsen Engel, nephew David Engel, niece Nona Byrne, and great-niece Amy Engel.
She is survived by her children Shawn (Caroline), Colleen, Kelly (JDee) and Meg (Tim) Reichel; grandchildren Ryan, Brianna, Holly (Chris), Danielle (Paul), Lucas (Crystal), Tess (Matt), Devin, Samuel, and Emma; great-grandchildren Maggie, Jobe, Josie, Joel, Jet, Dash, and Silas.
The family suggests memorials be directed to the Shriner's Hospital for Children at Shrinershospitalsforchildren.org.
Click here to see Margie's last Profile entry.