North Toole County High School
Classes of 1930 - 2015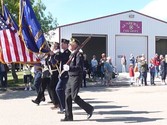 In Memory
Delores (Marie) Mangold Peck

Delores (Marie) Mangold Peck
Lewistown - Delores (Marie) Mangold Peck of Lewistown, Montana passed away on Monday, February 17, 2020, at Friendship Village Hospice of the Valley in Mesa, Arizona. Details of memorial and burial services in Montana will be provided at a later date.
Delores was born on August 16, 1936, in Havre, Montana to Joseph and Amelia (Schweitzer) Mangold, German-speaking immigrant wheat farmers seeking the American dream.
Delores grew up in Inverness, Montana where she graduated from high school after beginning her formal education speaking only the language of her parents. She attended Northern Montana College in her birthplace, earning a bachelor's degree in elementary education, persevering through challenging, years-long interruptions, including marriage, children, and employment outside of the home. Earning her degree was a powerful testament of her personal grit and determination to "finish what you start," and served as a meaningful lesson and example for her children and succeeding family generations.
Delores married Thomas Peck of Columbia Falls, Montana on June 23,1956, in Sacred Heart Catholic Church of Inverness, Montana, thus beginning an adventurous, sometimes chaotic, but always loving 55-year marriage. At a time when there were very few examples to follow, Delores very successfully managed the many duties of a working mother of five with amazing energy, compassion, organization and discipline. As she and Tom made moves further west before finally settling in the Flathead Valley, she warmly embraced every community's residents, culture, and uniqueness and always found a way to make a contribution. She was most alive and passionate in her elementary classrooms, nurturing youth for 32 years in a loving, skillful and firm manner. Her greatest pleasure was guiding her students to their highest achievements.
Delores was preceded in death by her husband, Tom Peck and her daughter, Yvonne Peck.
Delores is survived by her daughters Michelle Peck of Missoula, Montana, Starla (Monte) Solberg of Lewistown, Montana, and Patty (Scott) Daugharty of Eagle River, Alaska and her son Thom (Angie) Peck of Lewistown, Montana; her sisters Joyce Spicher, Marilyn Meier, Janice Hoppes, and Evelyn (John) Fischer; her grandchildren Jamie (Chad) Nordhagen, Tyler (Sienna) Solberg, Scot (Chelsea) Solberg, Conor Daugharty, Kaitlyn Daugharty, Taylor Peck and Kylie Peck; her great-grandchildren Lola Nordhagen, Emilia Solberg, Shayla Solberg, Tatum Solberg, Mira Solberg, and Jett Solberg and many nieces and nephews, far too many to list.
In honor of Delores's fervent desire to positively impact others' lives and her strong belief in the power of education, memorial donations can be sent to Blackfeet Community College at PO Box 819, Browning, Montana 59417. Contributions are tax deductible and will be much appreciated by this vibrant, ever-expanding and fully accredited community college. It was in Browning where the Peck family received very meaningful and life-changing lessons beyond the walls of a classroom and were blessed with forever friends and many cherished memories. Your choice of a preferred charity is also encouraged.
Condolences may be left on Delores (Mangold) Peck's online guest book at
www.sonoranskiesmortuaryaz.com
.
Delores will undoubtedly be an industrious and loving angel sharing her bright smile and twinkling blue eyes with everyone after joyfully embracing Gramps, Yvonne and other family and friends. She will be immensely missed by all of us fortunate enough to have received some of her sunshine, kindness and love.
Published in Great Falls Tribune from Feb. 28 to Mar. 3, 2020