North Toole County High School
Classes of 1930 - 2015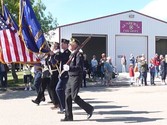 In Memory
Sherry Hegle (McNutt) - Class Of 1961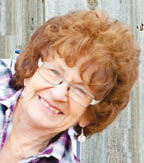 Sherry LaVelle McNutt, 73, of Cut Bank, passed away Wednesday, Aug. 26, 2015, at her home.
Viewing was Monday, Aug. 31 at Whitted Funeral Chapel in Cut Bank. A funeral service was held Tuesday, Sept. 1 at the First Presbyterian Church in Cut Bank, followed by interment at Crown Hill Cemetery. A reception for family and friends was held at the Moose Club in Cut Bank. Arrangements were entrusted to Whitted Funeral Chapel in Cut Bank.
Sherry was born Nov. 4, 1941 to Glen and Peg Hegle in Conrad. She was the first of three children. She grew up in the Kevin/Oilmont area where her parents and grandparents lived. As a young girl she along with her brother Hugh stayed with her Grandmother 'Momma Stock' when her parents were on business trips for her father's car dealership. Sherry would later accompany him on many car-buying trips and learned to drive at a very young age. (She would testdrive his cars with or without his permission!) Sherry drove the school bus and many Cut Bank students will remember going on bus trips with Sherry driving, because they always got there quicker!
She also spent several summers with her Grandma and Grandpa Hegle on their ranch in the Bear Paws and there acquired her life-long love of horses. She bought her first horse "Gypsy" from Ralph Hoff with $100 she saved herself, and over the years became an excellent horsewoman.
Sherry went to elementary school in Kevin and high school in Sunburst. She met the love of her life at the community dances on Seville Flats and soon after married Gary McNutt Nov. 8, 1959. They lived east of Cut Bank for the majority of their 50+ years of marriage where they raised two daughters and two grandchildren. They raised registered horses as McNutt's Paints and Quarterhorses. This took them on numerous horse buying adventures and they made many friends.
Prior to getting into the broodmare business, Sherry also worked for Ray Wilson at the Cut Bank airport.
Sherry was a Cut Bank Saddle Club member from the early 60s until the time of her death. She was involved in all phases of the club from the concession stand, to Trail Rides, Cowboy Polo, Drill Team, Chariot Exhibitions and O-Mok-Sees…she even set a new record at the 2014 State O-Mok-See in Key Race (10.375). She won three races at the last O-Mok-See she rode in on July 9, 2015. Sherry was always willing to share her knowledge and love of horses, and could be counted on to come help at a moment's notice for her friends if a horse was in trouble, at any hour. She loved foaling season and even slept in the barn accompanied only by her poodles "Pedro" or "Painter" in case the mares needed help. The coffee was always on at Sherry's house and everyone knew it, and if you showed up at meal-time you would never go home hungry. She could put a delicious meal together on short notice! A good listener, she heard everyone's stories and ideas. Sherry was always ready to go have fun, and loved going on trips, but only after the work was done and she instilled that into her children and grandchildren.
She was extremely devoted to her family and extended family. Several of her daughters' close friends called McNutt's house 'Home' when they were growing up. When her father was ailing in later years Sherry wouldn't have him in a nursing home, rather he lived at her house and she was his 'home health nurse' and chauffeur. The same was true when her mother-in-law and then her mother needed care and later on her husband Gary.
But if the truth be told, her animals were as high or higher on her caretaking list. And this wasn't just four-legged and furry…all creatures great and small, Sherry McNutt loved them all. Recently she had her own health issues but even her closest friends were not fully aware of the private battle she was fighting.
Sherry was actively involved in so many things over the years: Brownie & 4-H leader, Pink Lady, gardening, painting and stamping. She touched many lives and will be dearly missed.
Sherry is survived by her daughters TyAnn McGinnis, Cut Bank; Tracey McNutt (Nathan Morgan), Lafayette, La.; two brothers Hugh Hegle (Fern), Huntley; and Shane Hegle, Cut Bank; grandchildren Kelsey (CJ) Gebhart, Great Falls; and Chance McGinnis, Cut Bank; Jonathan and Joshua Morgan, Lafayette, La.; Great-grandchildren Carsten Thomas Gebhart, Great Falls; Reese, Raimee and Rylee Morgan, Louisiana; nieces: Linda Hegle, Billiette Grigsby, Malinda Taule, and nephews J.G.(Jill) Hegle, David (Rita) McNutt; numerous cousins and all of her riding and stamping buddies.
She was preceded in death by her parents, Glen and Peg Hegle; husband Gary; Uncle Danny Mitchell; and brotherin-law Gerald McNutt.
Memorial donations are suggested to the Shriner's Hospital, 911 W 5th Ave., Spokane, WA, 99204-2901, or to the Cut Bank Animal Shelter.
Please visit Sherry's online memorial and leave a message of condolence for the family atwww.whittedfuneralchapel.com.