North Toole County High School
Classes of 1930 - 2015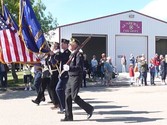 In Memory
Oliver Sonju - Class Of 1960
Oliver M. Sonju, age 72, of Kingman, Ariz., passed away Sunday, Aug. 3, 2014, from complications of the heart and diabetes.
Services will be in Kalispell on Monday, Aug. 18, at 1 p.m. at the Bible Presbyterian Church, located at Fifth Ave. West and Third Street. Internment in the Woodlawn Cemetery in Columbia Falls will follow the service. For more information call Kaye at (406) 212-4700.
Oliver was born on Dec. 28, 1941 to Gertrude and Oliver Sonju. He completed 12 years of school in Shelby, graduating in 1960.
He was a truck driver for Consolidated Freight Lines for over 25 years.
Oliver is survived by his wife, Cindy; one daughter and two sons, all of Arizona; siblings, Kaye Thomlison, Gerald (Sheri) Sonju, Dick Sonju (Mary), Ed and Jack Sonju, all of Kalispell, and Diane Severson of Colorado. Numerous nieces, nephews and cousins also survive Oliver.
He was preceded in death by his parents.