North Toole County High School
Classes of 1930 - 2015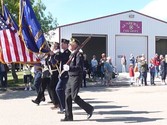 In Memory
Arvid Snyder (Jr. ) - Class Of 1978
Arvid L. Snyder Jr., 56, of Kalispll, passed away Sunday, May 7, 2017, at Kalispell Regional Medical Center due to a stroke.
He was born May 29, 1960, in San Bernardino, California, and raised in Montana. He graduated in 1978 from North Toole County High School in Sunburst.
Arvid worked in security and maintenance, and at a parts store. He was always willing to help everyone and had friends too numerous to mention.
He was known as a jokester, and enjoyed his train collection hobby and mechanics.
Arvid is survived by his parents, Arvid L. Snyder Sr. and Barbara Snyder, of Kalispell; his brothers and sisters, Glenn Snyder, Dianne Neva and Terri Halvorson; nieces and nephews, Trisha, Chris, Andy, Melissa, Alexis, Monica, Amanda, Nick, Chloe, Kylie, Caleb, and others, too many to mention.
A memorial service will be held at a later date.