North Toole County High School
Classes of 1930 - 2015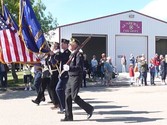 In Memory
Dorothy Polinkus (Ruckdaschel) - Class Of 1941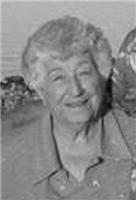 Dorothy Helen Ruckdaschel, age 91, of Anacortes, Washington went to be with the Lord on Monday, December 22, 2014.
Dorothy was born on November 29, 1923 in Taber, Alberta, Canada to Joseph and Myrtle Polinkus. She grew up in Sunburst, Montana, and left school early to care for her younger siblings. When she was 16 she entered an amateur hour show. Being very resourceful, she had learned to tap-dance by watching a class through the window. Borrowing her sister's roller skates, Dorothy tap-danced on those skates in front of 700 people and won first place.
As a young lady she worked in a restaurant where she met her future husband, Donald Ruckdaschel. They were married on January 22, 1944. During the war, they lived in New Mexico and California while Don was in the Army. In 1958 the Texaco Refinery in Sunburst, Montana shut its doors. The workers and their families were transferred to Anacortes to start up a new Texaco Refinery. Don and Dorothy purchased a new home in Anacortes where Dorothy has resided until now. Among other jobs, she worked many years at Whitney Fidalgo Seafood Company.
Baking, cooking, and feeding a crowd of family and friends was her joy. Her potato salads, deviled eggs and pumpkin logs were happily made and freely given to many. She loved visiting garage sales, and regularly purchased items with others in mind.
Don and Dorothy enjoyed camping with their family. Their treasured camping time was at the ocean, digging razor clams every year. After retirement they joined the Thousand Trails community. There Dorothy enjoyed potlucks, crafts, and other activities.
Dorothy took pride in her lawn and garden, still mowing into her early 80s In her last years of life, when she rode to the store with family members she would look at the flowers and say, "I wish I could buy them all!"
In spite of Dorothy being deaf early in life, she was able to carve out a social life and find great joy in these activities. She lived her life as the Lord Jesus instructs us all in Matthew 22:39, "Love your neighbor as yourself."
Dorothy is survived by her son, Dwayne Ruckdaschel (Kathy) of Anacortes, her granddaughter, Brenda Jordan (Darren) of Lynnwood, her grandsons, James Ruckdaschel of L.A. and Jonathan Ruckdaschel of Anacortes, her sister, Joanne Hannon of Helena, MT, her brother, Gordon Polinkus of Birch Bay, WA and numerous nieces and nephews and extended family.
She is preceded in death by her husband, Donald Ruckdaschel, her son, Glenn Ruckdaschel, and her siblings, Roy Polinkus, Bernice Aschim, and Hazel Grady.
Interment will be held at Grand View Cemetery in Anacortes at a later date.
Arrangements are in the care of Evans Funeral Chapel and Crematory, Inc., Anacortes, WA and the San Juan Islands. To share memories of Dorothy, please sign the online guest register at www.evanschapel.com.