North Toole County High School
Classes of 1930 - 2015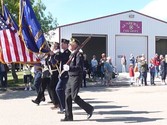 In Memory
Joyce Schrammeck
Ellen Joyce Gittinger Schrammeck
August 31, 1930 - May 23, 1990
Ellen Joyce was born August 31, 1930 in Kellogg, Idaho to Daniel Reese Gittinger and Evelyn Caroline Knudson Gittinger. She grew up in Kellogg where her father worked for the Bunker Hill Smelter. Throughout her childhood Joyce performed as a ballet dancer, tap dancer, baton twirler and was active in Camp Fire Girls and Rainbow Girls. She graduated from Kellogg High School in 1948 and received the 'I Dare You' Award at Graduation.
Joyce attended Oregon State College in Corvallis. Her leadership skills were recognized when she was elected president of her sorority, Kappa Alpha Theta and was selected for Mortar Board. She met Paul Schrammeck during her senior year, graduated in 1952, then taught Home Economics for a year in Rainier, Oregon. She and Paul were married in Kellogg in April 1954.
Paul and Joyce lived in Oklahoma and Wyoming before moving to Sunburst in 1955 when Paul became the Math Teacher at NTCHS. For the next 33 years Joyce raised her family, taught school, and was tremendously active in the Sunburst Community. Her energy and compassion touched the lives of many people through her involvement in school activities, Girt Scouts and the Sunburst Methodist Church. Joyce especially enjoyed the summers she lived with her family in Glacier Park where Paul was an Immigration Officer at the Chief Mountain Port of Entry. Joyce was also one of the first and strongest supporters of students' participation in Science Fairs and Missoula Children's Theater.
After Paul died in 1976, Joyce renewed her teaching certificate at Northern Montana College and completed her 5th Year Program there in 1982. Throughout the years Joyce taught Home Ec, French, Kindergarten, Jr. High English, History, and Art. Most recently she thoroughly enjoyed teaching 3rd Grade.
The friendships Joyce made were lasting ones. Nearly every summer, Joyce and her family returned to Kellogg to reunite with her childhood friends. In Sunburst Joyce's house was always filled with friends and loved ones of all ages. Joyce will be remembered for her humor and her laugh, for her deep compassion and enormous energy, for her dedication to education and for her commitment to feminism and equality. She will be deeply missed by her friends and loved ones.
Joyce is survived by her children and their partners, Joan Schrammeck and Tim Brewer of Seattle, Kay and Jack Butler of Klawock, Alaska, Wayne and Katy Schrammeck, of Bothell, WA and Steve Schrammeck of Seattle and his son Danny, her brother Wayne Gittinger and his wife Anne, of Seattle, her sister-in-law Leslie Gittinger of Bellevue, WA, her niece Marni Gittinger of Seattle and her aunt Pearle Gittinger of Leon, Iowa.
Joyce Schrammeck at ~3 years old. Joyce and Paul dancing at the Senior Prom in 1974.
---
From Joan Schrammeck ('74): Sunburst 5th Grade Teacher Bernice Paisley wrote a song about my Mom. I think the occasion was when she "retired" from being a Girl Scout Leader. Very special.