North Toole County High School
Classes of 1930 - 2015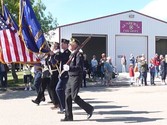 In Memory
Fern Haines
KALISPELL Fern A. (Cameron) Haines, 94, a former Kremlin resident who taught in Sunburst for many years, died of natural causes Friday at Immanuel Lutheran Home in Kalispell.
A memorial service is 1 p.m. Monday at Community United Methodist Church in Bigfork. Johnson Mortuary & Crematory of Kalispell is in charge of cremation and arrangements.
Survivors include children Bonnie Mutchler of Pablo, Kim L. Haines of Seeley Lake, Nan Guenzler of Bigfork and Debra Sue Haines of Hardin; 10 grandchildren and 15 great-grandchildren.
She was preceded in death by her husband, Merle; a grandson and an infant great-granddaughter. She was also preceded in death by her parents and two brothers.
Additional survivors include sons-in-law Earl Mutchler of Pablo and Gordon Guenzler of Bigfork; and a daughter-in-law, Zelda Haines of Seeley Lake.
Fern was born March 8, 1908, in Smithfield, Ill., to Ross and Clara (Strode) Cameron.
She moved to Kremlin, Mont., on March 16,1917, where she attended elementary school and helped farm with her parents. She later graduated from Havre High School in 1926. She graduated from the Montana University system in 1929 and married Merle Theodore Haines in Helena that same year. She and her husband lived and worked in many areas, including the Empire State Gold Mine near Helena, as county surveyor for Hill County, Montana State Experimental Station at Fort Assiniboine in Havre, Mont., with the border patrol in Dunseith, N.D., and the immigration station in Sweet Grass, Mont. She taught school for many years in Sunburst, Mont., and owned the Rising Wolf Ranch near East Glacier, Mont. Fern finally retired in Bigfork, Mont.
Fern was a member of the United Methodist Church in Bigfork, was Alpha Delta at the University of Montana, Delta Kappa Gamma with the International Honorary Teachers Society, an Eastern Star member of Flathead Chapter 128 in Bigfork, and a member of the Senior Citizens Center in Bigfork.
The family suggests anyone wishing to make a donation do so to a charity of your choice