North Toole County High School
Classes of 1930 - 2015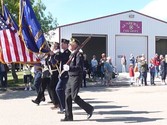 In Memory
Clinton Wehr - Class Of 1996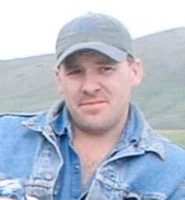 Clinton Sean Wehr, age 29, a Whitlash native, passed away Tuesday, Sept. 2, 2008 in Chinook. Visitation was from 4-9 p.m., Friday, Sept. 5 at the Whitted Funeral Chapel in Shelby. His funeral was at 11 a.m., Monday, Sept. 8 at the Whitlash Church with video feed provided at the Whitlash Community Hall. A luncheon followed the service. Clinton's ashes will be spread on the Wehr Ranch. Condolences may be sent to the family at www.whittedfuneralchapel.com .
He is survived by his wife, Kathy Wehr of Billings and her children, Ashley Shippen, Jaymz Shippen, Ernie Demarais and Casey Campanian; his mother, Virginia Woods-Wehr of Butte; his father and step-mother, Ron and Toni Wehr of the Sweet Grass Hills; his siblings, Amber Broch of Hamilton, Mary McGuire of Tuam, Co. Galway, Ireland, Jackson Wehr of Soldotna, Ark., twin sister Colleen Matoon of Shelby and Wendy Wehr of Whitlash; paternal grandmother, Norma Wood of the Sweet Grass Hills as well as stepbrother, Mac Cochran of Three Forks and stepsister, Jan Roland of Casa Grande, AZ, and eight nephews.
Clinton was born Sept. 7, 1978 to Ron and Virginia Wehr in Chester. He spent the majority of his childhood living in the Sweet Grass Hills. After attending school in Sunburst, he had several occupations including oilfield work, construction and mining. However, his true love was working on the ranch with his dad. One of his favorite things was wrestling calves with his brother, Jackson.
Clinton's charming ways never failed, and his love of life and sense of humor prevailed through the hardest of times. He had the ability to love and be loved by people through all walks of life.
He was preceded in death by his infant brother, Max Melvin Wehr; his maternal grandparents, Edgar and Gertrude Woods and his paternal grandfathers, James Wood and Melvin Wehr.
The family requests that in lieu of flowers, all donations be sent to the Clinton Wehr Memorial Fund at the Sunburst Schools.