North Toole County High School
Classes of 1930 - 2015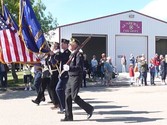 In Memory
Blanche McManus (Taft)
WHITEFISH - Blanche McManus-Taft, 95, passed away on Jan. 1, 2001, at North Valley Hospital in Whitefish. She was born in Eureka on March 30, 1905, to Jack and Mae Murray McManus.
Services will be 10 a.m. Saturday at Our Lady of Mercy Catholic Church in Eureka. Rosary will be 7 p.m. Friday. She was a life long member of the Catholic Church.
Taft earned her BA from Western Montana College in 1939 and her master's degree from the University of Washington in 1955. She was an educator in Montana for 48 years. She taught at rural schools in Lincoln County and ended her career as professor of English emerita at Western Montana College.
Upon retirement, Taft enjoyed sewing, gardening and her family.
She was preceded in death by her husband, Duane Taft; brother, Frank Graves.
Survivors include her sister Leona Lenarz; stepsons David and Bruce Taft; nephew Jack Graves; nieces Carol Workman, Chris Lucero and Jan Corneiluson; numerous great-nieces and great-nephews; great-great-nieces and -nephews; and sister-in-law Clara Graves.
Arrangements are by Nelson and Vial Funeral Home in Eureka.