North Toole County High School
Classes of 1930 - 2015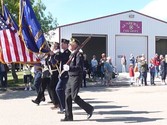 In Memory
Alyce Baker
Alyce Mae Baker
Alyce May Baker, 80, 1501 9th St. S., Great Falls, a former teacher, died Aug. 9 at her home of natural causes.
At her request, no services were held. Croxford and Sons Funeral Home handled the arrangements.
Survivors include a brother Walter W. Baker of Great Falls.
Additional survivors include five nephews and two nieces.
She was born Jan. 31, 1922, in Sun River and raised in the Sun River Valley. She graduated from Simms High School and the College of Great Falls. After teaching for 42 years in Montana and Oregon, most of the time in Sunburst, Havre and Sun River, she retired in 1985.
Sports were a part of her life. She was a member of championship basketball, bowling and badminton teams. She also played volleyball and pool she enjoyed reading, flowers, betting and discussing politics.
A brother, Gene Baker and a sister, Vivian E. Kirby, preceded her in death.
This is from the obituary published in the Shelby Promotor, August 28, 2002.
===============================================================================
Following are notes provided by Judy Sonnemaker Turvey ('68) on Jul 24, 2009:
Miss Baker died a few years ago here in Sun River. She moved here, where she grew up, after teaching so many years in Sunburst. I saw her quite often when I worked at the store for a number of years. I believe she was still alive while I worked at the post office. Mom and I went to her memorial service here.
People who remember her can see her old house to the left just before crossing the Sun River coming from Vaughn. I think of her often when I see it every trip to town. She taught all five of us kids in Sunburst, and I think she even taught one of my kids. She retired just before my youngest started school, after many(!) years of teaching. And I thought she was old when I was in her 1st grade!!