North Toole County High School
Classes of 1930 - 2015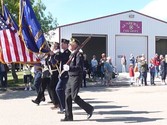 In Memory
Ron Gore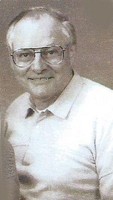 On Dec. 2, 2015, Ronald G. Gore, 81, slipped into the loving arms of his Lord and Savior at Riverstone Hospice House in Billings. He was born April 15, 1934, in Billings to George R. and Margaret M. (Belluomini) Gore.
Ron was an athlete, teacher, coach, artist, sculptor, photographer, trap shooter, hunter, small business owner, builder, and had a great gift of gab.
After graduating from Billings Senior, Ron attended Rocky Mountain College playing football, baseball, and basketball on scholarship while obtaining his BS Science and Physical Education degree. During his senior year at Rocky, he proposed to the love of his life Loretta Strauch. They were married on July 20, 1957 in Billings. Ron then began his career as a teacher and coach in Sunburst, Montana. While in Sunburst, their family grew by two darling daughters, Mony and Sissy! Ron moved his family to Glasgow in 1964 where he continued his teaching and coaching career. While in Glasgow, Ron pursued his Master's degree at San Diego State, Oregon State, Rapid City School of Mines, Montana State, and the University of Montana – Go Griz! He coached football, track, and rose to varsity basketball coach of the Glasgow Scotties. He also served as Exalted Ruler for the Glasgow Elks Lodge.
After retiring from teaching in 1990, Ron and Loretta opened Gore's Studio in Glasgow where he combined his love of photography, art, and framing and matting.
In 1995, they moved to Billings to be closer to family, and to own and operate The Big Sky Frame Shop.
Ron had a lifelong passion for art which was a central theme throughout his career. His love of art led him from science to audio-visual education which then led to photography. Art was even influential in his coaching as he created the Glasgow Scottie mascot image which he painted on the basketball court. That mascot image is still used today.
Ron is preceded in death by mother Margaret M. (Myron) Peterson, father George R. Gore, grandparents Romolo and Mariana Belluomini, and numerous extended family.
Ron is survived by wife Loretta (Strauch) Gore; daughters Melody (David) McIntyre and Tami (George Jr.) Nicholas; grandchildren Nathan and Patrick McIntyre, Justin (Veronica Vine) and Chad Nicholas; sister Betty (Gary) Waite; and brother-in-law Ken (Bertha) Strauch, and other extended family.
Special thanks to Brian and Sue and Reyn and Carol. The family would also like to acknowledge the staff of Riverstone Hospice House for their loving care of Ron during his six month stay. Memorials may be made in Ron's name to Riverstone Hospice House or the charity of your choice. Cremation has taken place by Smith Funeral Chapels.
A celebration of life in tentatively planned for Ron's birthday on April 15, 2016 in Billings. Please watch for details in the Billings Gazette and Glasgow Courier on April 1, 2016.
"Good night, honey. I love you – see you in the funnies."