North Toole County High School
Classes of 1930 - 2015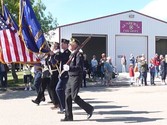 In Memory
Vern Mauritsen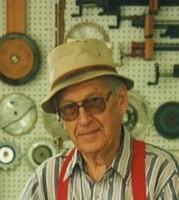 Kalispell —Vernon Peter Mauritsen, 96, passed away on Monday, November 25, 2013 at Immanuel Lutheran Home in Kalispell, Montana. He was born October 2, 1917 on a homestead 20 miles north of Devon, Montana to Alexander Mauritsen (originally from Ornhoj, Denmark) and Bertha Starks Hinman Mauritsen (originally from Lansing, Michigan). His son says he died of living, and this is why we think so:

"Vern, the Builder" began his young life with orange crates for wood and a rock for a hammer. Nails he must have found in objects he'd taken apart.

To his building talent, he added an education. Elementary school in Dodson and Malta, Montana, high school in Culbertson, and finally college at Concordia College, Moorhead, Minnesota and VanderCook College of Music in Chicago. His parents were musicians and started him at a young age, first on trumpet and then on violin. (He actually built a violin later in life.)

He taught both history and band in Browning, Montana for 4 years, and then kept on building and teaching in Sunburst, Montana for another 25 years. His band there, built out of kids from 10-18 years old, worked hard to make the ensemble of sixty musicians which led the Rose Parade in Portland in 1954 as Honor Band. Vern built a choir consisting of voices from all around the Highline and Alberta, The Oilfield Men's Chorus. And at the same time, week after week, he built a choir at Sunburst Lutheran Church that praised God in music on Sundays.

In 1941, "Vern, the Builder" married May Bellerud, the designer, and made her a partner in building for the next 72 years. Together they built a family, a lumber yard, The Sunburst Builder's Mart, a contracting business for prefab homes, a chicken plucking machine, a boat and a life together that inspired their children and the people who knew them.

Vern's building expertise came to the attention of the Concordia Language Villages in Moorhead, MN. From 1967-1971 Vern was director of the language villages, and under his and May's directorship built first the Norwegian and then the Spanish and German villages in their native architecture.

Vern and May moved to Bigfork in 1971, and we thought it was to retire. Instead, May taught school and Vern served as Superintendent of Parks and Recreation and bettered the Flathead Valley as board member of the Community Concert Organization and Immanuel Lutheran Home. After building their dream home, Vern continued woodworking. His wooden boxes and furniture were artistic and sleek (his Danish influence).

Vern built a family, as mentioned, and among them are his children, grandchildren and great grand children. Surviving are 2 trumpet players, a flutist, 3 clarinetists, a drummer, 3 pianists, 11 singers and a violinist. His wife, May, is now at Las Fuentes Retirement Community, 1035 Scott Dr., Prescott, AZ. 86301, and also surviving are his children Carol McDonald in San Jose, CA., Peter Mauritsen and wife Harriet in Prescott, AZ, Jean Frantz and husband Paul in Eugene, OR., and Mark Mauritsen and wife Mecca in Artesia, NM., all of them builders of some sort or another.

You are invited to a celebration of life service for Vernon planned for late July, 2014 at Bethany Lutheran Church in Bigfork, MT. Memorials can be given to Concordia Language Villages, 901 8th St. S., Moorhead, Minnesota 56562 (Attn. Melissa Rademacher) with Mauritsen Endowed Scholarship in the memo line.