North Toole County High School
Classes of 1930 - 2015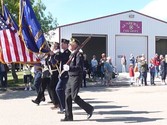 In Memory
Hazen Lawson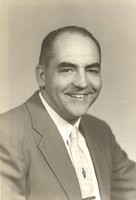 MISSOULA - Hazen R. Lawson, 83, of Missoula died at home Tuesday, Sept. 14, 1993, in the midst of his battle with cancer.
He was born June 26, 1910, in Kalispell. At the age of 3, his family moved to Havre where Hazen grew up. After graduating from Havre High School in 1928, he attended Jamestown College in Jamestown, ND, Northern Montana College, the University of Minnesota and the University of Montana, attaining numerous degrees for his long career in education.
Hazen was married to Ruth (Gaines) Lawson in 1936, and, together they shared 57 years of marriage and raised two daughters, Kay "Katie" Gilfilen and Sharon Dill.
Hazen and Ruth always lived in Montana, where he taught or served as superintendent of schools in Hingham, Harlem, Browning, Cascade, Sunburst and Eureka. He retired in 1972.
He was an active member of the University Congregational Church in Missoula, the Montana Education Association, Phi Delta Kappa and other civic organizations.
His was a life filled with love for family, teaching and the wilderness. Spending summers at Square-Peg Ranch at Polebridge was a highlight of his life, along with several summers being a guide and ranger, in Glacier National Park. Hunting, fishing and horseback riding gave him tremendous joy, and his loyalty to Montana was great.
Deeply loved, Hazen received and nurtured a very close family. Always with a quick smile, he was a wonderful husband, father, grandfather and friend.
Survivors include his wife, Ruth, at the family home in Missoula; two daughters and their. husbands, Katie and Larry Gilfilen, Bellingham, Wash., and Sharon and Dick Dill, Florence; three grandsons, Larry-Dill, Missoula; Dale Dorcas, Bellingham; and Dean Dorcas and his wife, Danene, Guam.
He is also survived by two sisters, Edith Grace Quam, Minneapolis, and Laura Deck and her husband, Dan, Kalispell, and numerous nieces and nephews.
He was preceded in death by his parents and his brother, Chester Lawson.
Memorial services will be 5 p.m. Saturday at University Congregational Church with the Rev. Peter Shober officiating. A reception with refreshments will' follow in the Fireside Room at the church.
Cremation and arrangements are by Garden City Funeral Home and Chapel.
The family suggests memorials to the Rocky Mountain Elk Foundation, 2291 West Broadway, 59802, or a charity of the donor's choice.
============================================================================
Amazin' Hazen
by Roland Cheek, published in the Shelby Promoter circa 1993.
They hardly believed a guy nearing three score and ten could display such energy, be so much fun. So they called him "Amazin' Hazen." I thought the name appropriate for the whitewater fishing guide and the name stuck.
Jane and I first called Hazen and Ruth Lawson friends in 1975, shortly after the long-time North Fork summer resident retired as Eureka school superintendent. I had a group of fly fishermen from Saginaw, Michigan and Hazen handled a raft down the Flathead's South Fork. He proved so energetic and exuberant, so upbeat and companionable, so full of fun and frolic - not to mention a veritable font of outdoor expertise - that the man became a float guide fixture for my tiny outfit.
Hazen Lawson was born and raised in Havre. He came to maturity during the Great Depression and, despite hardship, worked his way through college to become a schoolteacher. He lucked into marriage with a young Oklahoma lass - also a schoolteacher - and the couple raised two lovely daughters. Hazen rose to school administrative posts, serving as superintendent in Cascade and Sunburst.
During summers, the man was employed as seasonal ranger in Glacier National Park. Before World War II, he guided in the Many Glacier area for the Park's horse concessionaire. Hazen knew horses and how to use them in the backcountry. He knew a good horse when he saw one and always kept a couple of fine saddle ponies around.
My finest recollections of the guy is of him bouncing in and out of his heavy-laden raft to push it across shallow rapids. Or leaping into the frigid waters of Big Salmon Lake for an evening swim while we lesser-lights crowded closer to the campfire and shook our heads in envy of his elan. Hazen rode his own motorcycle and snowmobile. He water skied and canoed and snowshoed. He fished for cutthroat and bull trout, hunted cornfield pheasants, pot hole mallards, tule grass honkers and elk amid some of the wildest country in the northern Rockies.
Hazen had his first bout with the big "C" over ten years ago. And though weakened from the experience, won. Hazen Lawson was into his 80's when Jane and I joined him on a 15-mile horseback ride into Upper Quartz Lake in Glacier Park. And we could see the trip was tiring for a guy who but a few years before handled 20 and 30 mile rides without blinking.
Just a short while ago, cancer returned for a rematch and the diagnosis was inoperable. But he'd been through radiation once before and wanted nothing to do with treatment that might prolong life without - in this case - commensurate quality. Hazen's and Ruth's decision? To continue living life with dignity, grateful for all the wonderful things God has granted.
Hazen Lawson passed beyond the Great Divide at home, in his sleep, Sept. 14, 1993. Until they sold Square Peg Ranch - their landmark summer place - and moved permanently to Missoula, Hazen and Ruth Lawson were arguably the most beloved couple up the Flathead's North Fork. But I'll leave others to sing neighborhood paeans. It's about "Amazin' Hazen" that I wish to write.