North Toole County High School
Classes of 1930 - 2015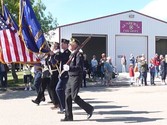 In Memory
Merle Haines
The first photo is of the yellow roses and urn from Mr. Haines memorial service. The second shows Mr. Haines "riding" his new saddle, a gift from the Senior Class to their retiring sponsor.
BIG FORK-Merle Theodore Haines, 82, of Rippling Waters Road near Bigfork, died of natural causes at his home June 15, 1987.
He was born Aug. 12, 1904, at the family homestead in Clancy,the son of Marie and Howard Haines. He attended grade school in Clancy and later graduated from Helena High School, where he excelled in track and basketball. Haines then attended the University of Montana where he was also a track athlete, a member of Sigma Alpha Epsilon Fraternity and had a short story, "Mike," published in Montana Margins.
During the summer while attending college, Haines worked for the government land office, surveying in what is now the Essex area, traveling to and from work by horse and wagon through what is now Highway 83 from Bigfork through Seeley Lake.
He met Fern Aileen Cameron at the University of Montana and on May 10, 1929, they were married in Helena. Haines then worked for several years at the Spring Hill Mine in Helena as a gold flotation operator. He returned to school and completed his degree in education in 1949, starting a career as a teacher, counselor and coach.
Haines worked in the Sunburst school system for 21 years and during that time held summer language camps for Concordia College at his Rising Wolf Ranch. He retired in 1975 and moved to Bigfork. He was a coach with the Western Montana Track Club and an avid fan of all local sports.
Haines is survived by his wife Fern at the family home in Bigfork; a son, Kim Haines in Seeley Lake; three daughters, Bonnie Mutchler in Pablo, Nan Guenzler in Bigfork and Debi Haines in Billings; two brothers, Cecil Haines in Libby and Frances Haines in Sun City, Ariz.; three sisters, Bennie Baker in Lewistown, Lois Barker in Vancouver, Wash., and Dorie Simpson in Pacifica, Calif.; 11 grandchildren, five great-grandchildren and many nieces and nephews.
Memorial services were at the family home in Bigfork June 20, with Rev. Ron Pierce officiating. Cremation has taken place at the Weatherford Crematory in Kalispell. Arrangements were under the direction of the Bigfork Funeral Home.
Memorials may be made to the Bigfork Quick Response Unit or to the Merle Haines Track Scholarship Fund, c/o Fern Haines, Route I, Rippling Water Road, Bigfork 59911.
==================================================================
DEDICATION
(from 1958 Caprock)
We the 1958 graduating class of North Toole County High School wish to dedicate this yearbook to the one who has done the most in bringing it about. Both by his skillful guidance and patient co-operation he has endeavored and succeeded in producing what we believe to be an outstanding CAPROCK for '58.
Mr. Merle T. Haines has sacrificed much of his time in the interests of "OUR" Caprock and for our class as a whole.