North Toole County High School
Classes of 1930 - 2015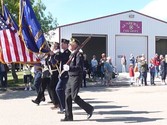 In Memory
Paul Schrammeck VIEW PROFILE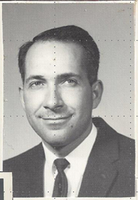 Paul S. Shcrammeck
November 25, 1929 - August 28, 1976
Paul Richard Schrammeck, Superintendent of Schools for Sunburst, passed away on August 28, 1976, at the Deaconess Hospital in Great Falls. He was 46 years old.
He was born on November 25, 1929 to Ann and Walter Schrammeck in Great Falls, Montana. His maternal grandparents were Ella and Marion Johnson of Jefferson City, and his paternal grandparents were Henry and Clara Schrammeck who homesteaded near Cascade, Montana.
Paul, the youngest of five children, joined brothers Donald and Kenneth, now of Great Falls, Montana and sisters Lois Schrammeck, now of Seeley Lake, Montana and Nona Schrammeck Thompson, who now resides in Carson City, Nevada.
He attended schools in Great Falls and graduated from Great Falls High School in 1947. He attended the College of Great Falls and then Oregon State University on a United States Navy honors scholarship. He graduated from OSU in 1952 with a Bachelor of Science degree. He then served in the U.S. Navy with the rank of Ensign and served aboard an aircraft carrier based in Norfolk, VA during 1952-54.
Paul was married in 1954 to Ellen Joyce Gittinger of Kellogg, Idaho, and they made their first home in Alva, Oklahoma where Paul was employed as a geophysicist for Continental Oil Company.
In 1955, Paul entered graduate school at the University of Montana and received a Master of Education degree. He then accepted a position as mathematics teacher at North Toole County High School in Sunburst, Montana.
Their first daughter, Joan Leigh, was born in 1956, and he and Joan were both baptized in the Sunburst Methodist Church. His second daughter was born in 1958 and was christened Kay Ellen in honor of her two maternal great-grandmothers who were both named Ella. That same year, Paul was awarded an educational grant by the National Science Foundation, and under this program received a Master of Science degree from Oregon State University in 1959.
Paul then resumed his teaching post in Sunburst and also began a part-time career as a U.S. Immigration inspector at the ports of Sweetgrass and Chief Mountain, Montana and at Blaine, Washington.
In 1961, their first son was born on Joyce's birthday, and was christened Richard Wayne. The following year Paul became the high school principal in Sunburst. His beloved grandmother, "Mama J." died that year as did his father. His second son arrived a few days later and was christened Steven Walter in honor of Paul's father. His mother died in 1976.
Paul was unanimously chosen by the combined high school board and elementary school board members as the new superintendent for School District #2 in 1968, a position he held until his death.
In addition to his immediate family and brothers and sisters, Paul has enjoyed a large family of relatives. His uncles are Edgar and Clancy Johnson. and his aunts are Vanetta Lewis and Martha Haynes. His in-laws include Addie and Genny Schrammeck, Bob Scott. Evelyn Gittinger and Wayne and Leslie Gittinger. His cousins are Gwen Hartman. Jean Chauner, David and John Haynes, Marion Weldon, Kent Lewis, Bonnie Beckey, Marilyn VanDiest and Larry Johnson. His twelve nieces and nephews are Darcy Jackson, Diane Roberts, Marcia Holas, Greg Schrammeck, Robbie Mickaels, Kirk Mickaels, Tracy Scott, Jim and Jack Thompson, Patty Chizek, Marni Gittinger, and Jan Schrammeck.
Paul has been a member of DeMolay (Chevalier), Theta Xi fraternity, Masonic Lodge No. 43 A.F. and A.M., V.F.W., American Legion. National Education Association, M.E.A., Montana Association of School Administrators, Montana High School Association and the Methodist Church.
At the time of his death, Paul Schrammeck was Superintendent of Schools for District #2 in Sunburst. He died at age 46 at the Deaconess Hospital in Great Falls on August 28.
The first day of school in the Sunburst area, which was to begin on Aug 30 was postponed so students and teachers could attend the funeral.
Funeral services were held Aug 30 at the Sunburst Lutheran Church with Rev. Harold Petersen and Rev Charles Canaster officiating and Music by Kathy Johnson and Lee Mathews accompanied by Leota Nichols. Burial, with military honors, was in the Sunburst Cemetary. Burns Funeral Home of Shelby was in charge of arrangements.
Pallbearers were Jay Johannsen, Paul Coolidge, Bob Aschim, Charles Harlan, Toni Bergene and Roger Erwin. Honorary Pallbearers were Gordon Pucket, Hazen Lawson, Sunburst school board members and the Sunburst faculty. Donations were made to the Paul Schrammeck Memorial Scholarship Fund.
Paul Schrammeck passed away in 1976.
Click here to see Paul's last Profile entry.