North Toole County High School
Classes of 1930 - 2015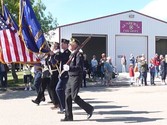 In Memory
Kenny Hannon - Class Of 1955
KEVIN -- Kenneth E. Hannon, 67, a retired truck driver from Kevin, died of cancer Sunday, September 19, 2004, at a Shelby care center.
A gathering of family and friends is 2 p.m. Saturday at the Kevin Senior Citizens Center. Cremation has taken place under the direction of Whitted Funeral Chapel of Shelby.
Survivors include his wife, Violet, of Kevin; a son, Ryan (Jean) Hannon of Havre; three daughters, Kelly (Daryl) McAlpine of Sunburst, Shelly (David) Wallewein of Sunburst and Renee (Andy) Isola of Helena; four sisters, Betty Dobson of Great Falls, Beverly Royle of Graham, Wash., Vicki Pulver of Valier and Sonja Yunck of Cut Bank; six grandchildren, Jeremiah McAlpine, Cody McAlpine, Jesse Hannon, Megan Hannon, Eric Isola and Ashley Isola; and two great-grandchildren, Dylan and Shilo McAlpine.
He was preceded in death by his parents.
Ken was born Nov. 23, 1936, in Sunburst, to Howard and Verla (Erickson) Hannon. After graduating from Sunburst High School in 1955, he joined the Army Reserves. He married Gloria Maxwell in 1956; they later divorced.
Ken worked in the oilfields for a time, drove truck for the Greenups, farmed for Archie McLean and also worked for Somont Oil. He eventually went to work for Dick Irvin Inc., driving truck, until his retirement in 1999.
He married Violet Harsch on Aug. 8, 1991, in Hot Springs, Mont.
Ken was well known for his excellence in woodworking, specializing in building custom birdhouses for a number of people. He also enjoyed remote control airplanes, fishing, bowling, playing darts, cooking and telling stories.
He was a past mayor of Kevin and served on the Kevin City Council for a number of years. He volunteered much of his time at the Senior Center and was known as Kevin's handyman, who could fix anything.
The family requests that anyone who has a birdhouse that Ken built, please bring it for display at the center on Saturday.
Published in the Great Falls Tribune Wednesday, September 22, 2004.