North Toole County High School
Classes of 1930 - 2015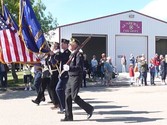 In Memory
Joe Meagher - Class Of 1934

Tuesday, July 8, 1997:
CUT BANK — Former Cut Bank mayor and community leader Joseph Daniel Meagher, 82, died of natural causes Tuesday at a Great Falls hospital.
A memorial service is 2 p.m. Friday at the First Presbyterian Church in Cut Bank, with burial of ashes in Crown Hill Cemetery. O'Connor Funeral Home of Great Falls and Burns Funeral Home of Cut Bank are in charge of cremation and arrangements.
Meagher was born July 25, 1914, in Sand Coulee, and graduated from Sunburst High School. In 1935 he married Doris Holtz in Canada.
He began working for Carter Oil in 1936 and served as superintendent from 1946-1950. He and his wife also owned and managed Meagher's Shopping Center in Sunburst.
He later served as vice-president of Cut Bank Gas Co. and director of First Interstate Bank of Glacier County.
Meagher was mayor of Cut Bank from 1973 to 1989, and was president of the Cut Bank Chamber of Commerce and Cut Bank/Glacier County Planning Board. He served as director of the Cut Bank/Glacier County Development Corp., Montana League of Cities and Towns, and Glacier County Regional Tourism Commission. He was also the founder of the Chamber of Commerce Lewis and Clark Festival.
He was president and a member of the Cut Bank Golf and Country Club, and a member of the Elks, Glacier County Historical Society, First Presbyterian Church and Lions Club. He received the Jaycees Boss of the Year Award in 1969, and he and Doris were named Outstanding Citizens of the Year by the Chamber of Commerce in 1984.
He enjoyed fishing, golfing, game bird hunting, cooking, boating, traveling and reading.
Survivors include his wife of Cut Bank; four children, Terrence Joseph Meagher of Salem, Ore., Marsha G. Bragg of Bozeman, Timothy D. Meagher of Helena and Thomas Kent Meagher of Cut Bank; a sister, Gail DeWalt of Helena; 15 grandchildren and 12 great-grandchildren.
Memorials are suggested to Glacier County Memorial Hospital or Glacier County Historical Museum.