North Toole County High School
Classes of 1930 - 2015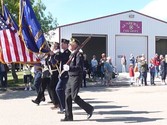 In Memory
Bill Karst - Class Of 1954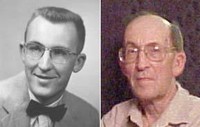 William "Bill" Karst, age 68, a longtime Sunburst farmer and farm equipment salesman, passed away Tuesday, March 21, 2006 at the Pondera Long Term Care facility in Conrad due to complications from strokes. Visitation was from 1-8 p.m., Friday, at the Whitted Funeral Chapel in Shelby. His funeral was at 11 a.m., Saturday, March 25, at St. Thomas Aquinas Catholic Church in Sunburst. Burial followed in Sunburst Cemetery. Condolences may be sent to the family at http://www.whittedfuneralchapel.com
Survivors include his wife, Harriet, of Sunburst; daughters, Natalie (Jeff Beasley) Karst of West Sacramento, Calif., and Teresa Karst of Kalispell; granddaughter, AnnMarie Beasley; sisters, Mary (Steve) Stevens of Sunburst and their children, Jim Lisa and Melody, Betty (Joe) DeMartin of Rudyard and their children, Brian and Barry, and Margy (Rich) Johnson of Conrad and their children, Kurt and Kevin; brothers, Herb (Carol) Karst of Sunburst and their children, Kristin, Kim and Jeff and John (Val) Karst of Great Falls; sister-in-law, Cora (Ron) Copenhaver of California and their daughter Leza; and mother-in-law and father-in-law, Joseph and Harriet Krall of Conrad.
He was preceded in death by his parents, Joseph and Lucile (Benjamin) Karst.
Bill was born Jan. 7, 1938 to Joseph and Lucile (Benjamin) Karst in Shelby. He attended the O'Loughlin Elementary School east of Sunburst and graduated from Sunburst High School in 1954. He then farmed for his father while attending Northern Montana College. He met his loving wife, Harriet Krall, at a high school dance in 1957 and they were married Feb. 7, 1959 in Sunburst, where they farmed for the next 10 years. He worked for and eventually managed the Farmers Co-op in Sunburst. He worked briefly for Northern Telephone and, in 1985, began selling farm equipment before retiring in 2000. During his retirement, he loved working on his yard, his shop projects and traveling extensively with Harriet.
He was a member of the Sunburst Volunteer Fire Department for 25 years and the Toole County Planning Board for 18 years.
Bill will be remembered as a kind and gentle person. Although he worked several jobs, his favorite was selling farm equipment. He was a people person and selling farm equipment afforded him the opportunity to be around people who shared his love for farming, as he was still a farmer at heart. He also loved children, always having a treat for them when delivering fuel or visiting farms.
The family suggests memorials to a charity of their choice.