North Toole County High School
Classes of 1930 - 2015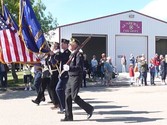 In Memory
Lillian Chase (Linnell) - Class Of 1943
SUNBURST - Lillian M. Linnell, age 77, of Sunburst, died Wednesday, May 8, 2002, at the Marias Medical Center in Shelby, due to natural causes. Funeral services will be 2 p.m. Saturday, May 11, at the Sunburst Methodist Church, with burial to follow in Sunburst Cemetery. Visitation was Friday, May 10, at the Whitted Funeral Chapel in Shelby.
Lillian was born Feb. 20, 1925, to William and Mary Alice (Coyne) Chase in Anthon, Iowa. She was raised in Lethbridge and later, the family moved to Sunburst where she graduated from Sunburst High School. She moved to Washington and Arizona for a few years, eventually returning to Sunburst, where she met and married Melvin Howard Linnell on Nov. 12, 1949, in Shelby.
They lived in Sunburst, where they owned and operated Linnell's Texaco. In addition to doing the books at the station, Lillian was a devout and loving mother and homemaker. After Melvin's passing in 1991, the station was sold and Lillian retired. She moved to the Marias Heritage Center in April of 2001.
Lillian was a member of the Sunburst Methodist Church and was active in the Girl Scouts for 15 years. She enjoyed bowling, fishing, reading, cross stitching, painting, flowers and genealogy.
She is survived by sons Melvin Gail (Ginny) Linnell of Rumson, N.J., and Roger (Sharon) Linnell of Ridgefield, Wash.; daughter Susan (Bill) Cunningham of Billings; daughter-in-law Nancy Linnell of Sunburst; and sisters Audrey Bergman of Arizona City, Ariz., Mary Murphy of Vancouver, Wash., and Evelynn Danner of Denver. Eight grandchildren, Khris, Becky, Laura, Jennifer, Bruce, Christine, Chase and Cera, also survive Lillian.
She was preceded in death by her parents; husband Melvin; and sons David and Allen.