North Toole County High School
Classes of 1930 - 2015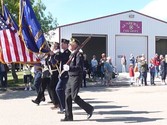 In Memory
Bonnie Roady - Class Of 1957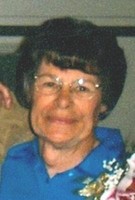 Bonnie Harvie passed away on October 1, 2014. She was born June 14, 1938 in Shelby to Frank Roady and Leona May Fleming.
Bonnie was raised in Sweetgrass. She graduated from high school in Sunburst. She and her sister Carrie enjoyed going across the border into Canada for dancing. It was during that time she met her permanent dance partner, Roy Harvie. They married and moved to Sweetgrass. They were married for 57 years. They moved to Great Falls with their children in 1970. She and her husband managed a café in Canada for 5 years; owned her own clothing store for 12 years; manager of Sambos Restaurant for 12 years and worked at Joe's Place for 15 years upon retirement. Bonnie was a caring and loving person who enjoyed being a caretaker for her family and friends. She loved cooking for her family. Her interests were bowling, dancing, and restoring antiques. She played the saxophone in high school and the band played at the Rose Bowl.
Bonnie is survived by her husband Roy, sons Wes, Ronnie (Jodie), Marty (Jean), daughter Debbie, all of Great Falls, brother Robert Roady, sisters Carrie Murray and Donna Obresley all of Great Falls, 14 grandchildren and 6 great-grandchildren.She was preceded in death by her sons Robert James and Richard Joseph Harvie, parents Ted Roady and Leon May Fleming, stepfather Art Fleming, and grandson Spencer Harvie.
A viewing will be held on Sunday, Oct. 5th from 6:00pm-8:00pm. Funeral services will be held on Monday, Oct. 6th at 11:00am at Croxford Funeral Home. Burial service to follow at Highland Cemetery. Reception to follow at Eagle's Manor Lodge.
Condolences to the family may be shared at www.croxfordfuneralhome.com.