North Toole County High School
Classes of 1930 - 2015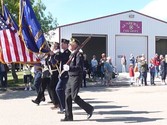 In Memory
Shane Horgus - Class Of 2005 VIEW PROFILE
SWEET GRASS - Shane Anthony Horgus, 25, a farmer from Sweet Grass, died Tuesday, Feb. 21, at his home. The cause of death is under investigation.
Visitation begins at 1 p.m. Friday, followed by a 7 p.m. vigil service at Whitted Funeral Chapel in Shelby. Funeral Liturgy is 11 a.m. Saturday at St. Thomas Aquinas Catholic Church in Sunburst.
On June 24, 1986, a beautiful happy boy entered this world. Shane Anthony Horgus was born in Whitefish, to John Horgus and Tippy Burtch. Shane attended schools in Cut Bank, and gradu-ated high school in Sunburst, where he was an excellent foot-ball player. After high school, Shane attended college in Havre, getting many degrees in welding and farming. Shane loved working on the farm with his dad, John, and his brother, Jonathan, and loved working parties with his mom, Tippy.
Shane is survived by his parents, John Horgus of Sweet Grass, and Tippy Burtch of Cut Bank; sister Maurya (Gar) Rummel of Dallas; brother Jonathan (Crystal) Wipf of Sweet Grass; nephews Kale Rummel, Wyatt Berkram and Dallas Berkram; and niece Casey Wipf. Also surviving Shane are his grandpar-ents, George and Marguerite Horgus of Sweet Grass, and Danny and Elaine Mitchell of Cut Bank; as well as his many aunts, uncles, cousins and friends. Last but not least, Shane leaves behind his beloved dog, Weiser.
Shane is joined in heaven by his great-grandparents, John and Louise Wolanski; grandparents Sharon Cole, KC Burtch, and Reuben Knutson; uncles Cecil Lazenby, Bob Burtch and Ken Burtch; and cousin Robin Burtch.
Shane was always doing something: welding, painting cars, building cars, mechanic work, farming, playing with Weiser, hunting, camping, boating and skiing were just a few of his hobbies. He also liked cooking, reading, savoring a good meal and taking peoples' money at pool. Shane also loved the Dallas Cowboys. Shane had just leased his first piece of farmland all on his own, and was excited about Rock-N-Roll Grain.
Shane believed in truly loving what you do every day and the people you have in your life. He was a loving son, brother, uncle, cousin, grandson and friend to all who knew him. He will be missed by all. Shane lived life to the fullest and savored every minute he was with us.
Condolences may be posted online at
www.whittedfuneralchapel.com
and/or
www.gftribune.com/obituaries
.
Published in Great Falls Tribune on February 24, 2012
Click here to see Shane's last Profile entry.