North Toole County High School
Classes of 1930 - 2015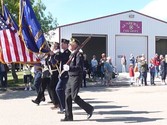 In Memory
Steve Stevens - Class Of 1959
Steve M. Stevens, 74, passed away September 6, 2015, at his home in Sunburst, MT. Steve was born March 30, 1941, in Kalispell, MT, to Madge Marie and James Stevens, of West Glacier. He was the youngest of 10 children, and was only 3 lbs. 2 oz. at birth.
Steve was educated at the West Glacier School through 6th grade, then attended Columbia Falls Jr. High and High School, until his junior year. At that time, he moved to Des Moines, WA with his parents, to live near his sister, Bette, and husband. Steve attended high school in Des Moines for his junior year. He then moved to Sunburst, and lived with his brother, Ken, and wife, Toni, and children. It was while living in Sunburst that he met Mary Karst, of Sunburst. Steve was singing in the Christmas Carole, as the part of Bob Cratchit, and Mary was playing the background music. They married on September 8, 1959, in Shelby, MT and then moved to Chicago.
Their son, Jim, arrived followed by a daughter, Lisa Marie (Ken) Tecca, and another daughter Melody Ann (Gordon) Jacobs.
In 1974, the Stevens family moved back to Sunburst, and Steve and Mary purchased the Duty Free Shop, in Sweet Grass. They ran the business until January, 2001, when they retired and moved to West Glacier.
Steve loved children and sports, and therefore, spent 24 years coaching baseball, as well as coaching a boys basketball team and Pop Warner football, while in Illinois. He missed a day of work to watch his two pitcher pitch against each other for the Chicago Public School and Chicago Catholic School game.
Steve's health deteriorated greatly the past few years. He worked summers in Glacier Park for five years, until his health didn't allow him to continue working. He loved Glacier Park so very much. He had seven heart bypasses, done by Dr. Brett Williams, and Dr. Robert Clary "patched" him up for probably 30 years.
Our sincere thanks to Dr. Robert Clary and staff, Dr. Brett Williams, and the Hospice staff for the wonderful care given Steve. Also, Mary wants to thank their three wonderful children, who made it possible to keep Steve at home these past several weeks. He really enjoyed those who stopped to visit, and all of the love and prayers shown by his friends and family.
Steve is survived by his wife, Mary, of Sunburst, his son, Jim, daughter-in-law, Yvette, and grandchildren, Line, of Yelm, WA, Mathew of Coutts, AB, and Andrew of Missoula, MT. He is also survived by daughter Lisa Tecca, daughter Tandra, husband Warren, children Kahleb, Kaege, and Khenlie, of Kalispell, son Marcus, wife Lauren, and daughter, Megan, of Kalispell, and Brandon, wife Kristina, son Taegan, and daughter, Sephyia, of Missoula. His daughter, Melody, and husband, Gordon, and daughter Sarah live in Great Falls, and daughter Jessica and her husband, James, reside in Las Vegas.
He was pre-deceased by his mother and father, Madge and Jim Stevens, his sisters, Bette, Gerene, and Sharon, and brothers, Bob, Willis, Jack, Ken, Roger, and Harley Stevens, and son-in-law, Ken Tecca.