North Toole County High School
Classes of 1930 - 2015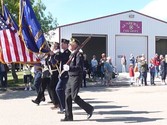 In Memory
Peter G. Stoltz - Class Of 1959 VIEW PROFILE
Peter G. Stoltz
Peter G. Stoltz, 75, of Rathdrum, Idaho, gracefully passed from complications related to Multiple Sclerosis while surrounded by family on October 2, 2017. He was preceded in death by his parents, Clarence and Dorothy Stoltz, of Sunburst, Montana. Pete and his older brother, Mike, were initially home-school by their mother. Later, during the summers, they attended elementary school in a one-room country school house at the 9-mile corner east of Sunburst. When the schools were consolidated, a bus route was established from the 9-mile corner for students to attend school in Sunburst. He met a lovely Norwegian girl named Connie, while attending Montana State University. She became his wife of 53 years. Pete and Connie raised their family and worked on the Stoltz family farm and ranch east of Sunburst, near the Sweetgrass Hills, until retiring in 1991.

Throughout his life, Pete had a passion for land conservation and range management. He served on the Toole County Weed Board for many years. After he retired, Pete returned to MSU and pursued advanced studies in land stewardship and holistic resource management. In later years, Pete and Connie moved to Rathdrum, Idaho, where she pursued her teaching career and he enjoyed sharing his resource management knowledge through his Wobbly Wheel Consulting service and serving the community. Pete was active in the Rathdrum Area Chamber of Commerce (President, 2002-2003), served on several committees for the City of Rathdrum, and was a founding member of the Friends of Rathdrum Mountain. Pete genuinely appreciated people of all types, experiences and backgrounds. He was naturally inquisitive, a ferocious reader and fiercely independent. Pete loved chocolate, good conversation and exchanging stories. He also enjoyed playing pinochle and Texas hold 'em poker with friends at the Golden Spike Estates.

He is survived by his wife, Connie and their three children: Peter Stoltz (Rebecca King) of Seattle, WA; Celine Stoltz Burch (Jim Morley) of Missoula, MT and Ramona Stoltz (Anjan Kar) of Washington D.C. His siblings, Michael Stoltz (Gladys) of Albany, OR; Sarah Lee Leonard of Suffolk, MT; Alanna Stone (Norm) of Stanwood, WA; and Arleyn Simon (Lynn) of Tempe, AZ along with numerous nieces, nephews, grandchildren and great-grandchildren.

By his request, no service will be held. In lieu of flowers, the family requests memorial contributions be made to the Multiple Sclerosis Foundation, 6520 North Andrews Avenue, Fort Lauderdale, FL 33309 or a charity of your choice.
Click here to see Peter G.'s last Profile entry.