North Toole County High School
Classes of 1930 - 2015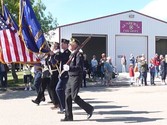 In Memory
Suzanne Springer - Class Of 1958
From the Missoulian June 15, 2009 12:00 am:
WESTERN MONTANA LIVES - Susanna Springer was a generous, no-frills woman

Tulips and irises, an orange lei and sweet messages written in chalk adorn the entryway to Joseph's Coat.
"Oh! I had no idea you were gone. Who will teach me to finish my project?"
A knitting project, no doubt. The bouquets and kind words have grown daily since Susanna Springer passed, but friends of the woman who owned the yarn shop still can hear her protests. Springer wouldn't appreciate the fuss, not the memorial in front of her Hip Strip store, nor this story.
The "classy dame" and "feisty old broad" lived for her community, though, and some people in that wide circle paused last week in front of her store to visit about Springer's deep generosity and good will. And her hollering, too, of course.
"In my mind, she epitomized what it meant to be a member of a community," said Scott Timothy, a friend and colleague. "She was flawless."
Springer supported the little guy, the owners of small local shops. Timothy said she was one of his first clients at Go Fetch!, his local pet store. She enrolled her Airedale in group hikes and later she sent little Bijoux, her bichon frise, the occasional target of her "hollering."
Sometimes, when parents brought children to her store, she'd send them to the bookstore down the block to pick up a treasure on her tab, said Tim Hall, a friend and neighbor. And he said she'd buy them the whole encyclopedia if that's what they wanted. Hall owns the Sports Exchange next door, and he'd close up his shop to check in on her and maybe lift some boxes.
"In the beginning, she used to call me 'Buster,' " said Hall.
He's the one who described her as a "classy dame" and "feisty old broad," both compliments. Springer was part of his world on the Hip Strip, and Hall said he cried when he read a fellow shop owner's tribute to her. Shakespeare and Co. is the store down the block, and owner Garth Whitson wrote on the shop blog about her life in Montana and abroad, her love of books and bookstores, "exclusively local bookstores."
"I became acquainted with Susanna in about 2000, after I moved the still-fledgling bookshop to North Higgins," Whitson wrote. "She would pull up in her car every couple of weeks to buy books, and perhaps to get her prescriptions at A&C Drug right next door to me. Or she'd call me on the phone - "Order up!" - to order a book she'd seen covered in her beloved New York Times."
He called her "staggeringly generous," and her generosity spilled to other corners of the Hip Strip and to customers as well. Springer was a regular at Le Petit Outre bakery, and there, Jennifer Hisatomi once found an extra $20 on her account. She knew she hadn't put the money on her card and asked workers how it got there. They told her they weren't supposed to say, but she learned just enough.
"I finally figured out it was Susanna," said Hisatomi.
If Hisatomi walked into the shop with a problem knitting project, Springer had no trouble telling her to rip it out and start again - "She just never minced her words." But Springer also spent the next half hour helping her with a fix, and she had other soft spots, too. One year, Hisatomi and her son offered her a special gift.
"We brought her a May Day basket, and she just started crying," she said.
Springer told them she'd made May Day baskets when she was a child, and she didn't think anyone made them anymore. She was a "cosmopolitan gal," said Timothy, and she had a refined palate, a taste for fine art and beautiful rugs. She had an air of mystery and intrigue about her, too.
Last week, a sign posted on the door of Joseph's Coat said the store was temporarily closed, and the notes and bouquets piled up below. Friends say before Springer died on June 5, she dined well and talked of gardening. She died of natural causes at 69 years old, maybe 69 years young.
"I think her spirit was probably younger than her age because she was so full of life and great stories. She always had a great story to tell," said another customer passing by, Lori Mathews.
Friends say she was humble and modest, and all the to-do would certainly irritate her. But Hall said even in her death she is bringing people together, as people bond when they share in someone's passing.
"Powerful spirits will do that, and Susanna was a mighty powerful spirit," Hall said.
Reporter Keila Szpaller can be reached at 523-5262, keila.szpaller@missoulian.com or on MissoulaRedTape.com.
============================================================================
From the Missoulian June 19, 2009 12:00 am:
Susanna Springer (Western Montana Lives, June 15) was a beloved member of a wide, yet intimate circle of people who saw the world in texture and color. Her yarn store, Joseph's Coat, was a haven to people who sought quality in both yarn and conversation.
I first met Susanna in 1986, when my family had just moved to Missoula. Joseph's Coat was one of the places - along with the Queen of Tarts, Freddy's, the old Shack, Fact & Fiction - that made Missoula feel like a welcoming and habitable community. Especially when Susanna's store was above the Mammyth Café, it was a place full of interesting folks of all ages, who simply liked to be there in Susanna's company, enjoying her wry humor, her sharp wit; she was always up on the latest piece in the New York Times, and would regale you with her latest stories.
For years, once a week our recorder group would gather there to practice, color and sound complimenting each other nicely. She loved the music, and served tea - always the genteel hostess. Her store was a home base for a small cadre of little children, whose parents ran the cafe downstairs, the children's second-hand store next door.
My daughter "worked" for Susanna when she was around 10, neatening the shelves, winding wool for customers - she became a weaver and knitter by osmosis, and in the years that followed, when she went on to high school, college, then graduate school, Susanna always wanted to know, "How's that girl of mine?" She made people feel special.
Sitting in her store, amongst the color and warmth, surrounded by beauty, it was possible to breathe a little deeper, and become immersed in the life of craft. She was a quirky and loveable woman; truly one of kind. Missoula is a bit poorer for her passing. We will all miss her.
Nancy Seldin, Missoula