North Toole County High School
Classes of 1930 - 2015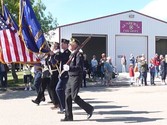 In Memory
Darrell Lerum - Class Of 1957
Darrel James Lerum was born Dec. 24, 1939 to Robert L. and Grace (Darling) Lerum. He left this life on Thursday, Sept. 11, 2014. The cause of death was Spinocerebellar Ataxia II, also known as SCA2 (which resembles ALS). At the time of his death, he resided in Lake Oswego, Ore.
Darrel's cremation was through Crown Legacy Funeral Home of Tualatin, Ore. He will be buried next to his parents at a later date in Sweet Grass. No services are planned.
Darrel grew up in Sweet Grass where he attended grade school. He graduated from North Toole County High School in 1957. After a year at Concordia College in Minnesota, he joined the U.S. Air Force and was honorably discharged in 1964. Darrel received his Bachelor of Arts Degree from the University of Montana in 1971.
Darrel worked as an inspector for the U.S. Customs Service from 1971 until his retirement in 2002. He started his career in Sweet Grass, transferred to Calgary, Alberta, and finished his career in Portland, Ore.
Darrel is survived by his sisters, Dorothy Lee of Hermiston, Ore., and Lori (Jim) Boltz of Big Lake, Ark.; his brother, Robert (Tina) of Lakeside; his sons, Zach Lerum of Portland, Ore., and Ben (Julie) Lerum of Silverton, Ore. Darrel is survived by five grandsons, Devin Lerum and Josiah, Noah, Drake and Finley Lerum. He is also survived by nieces, Dona Lee, Cari (Boltz) Zawodny and Josie Lerum; nephews, Nathan Boltz and Evan Lerum, as well as great-nieces and nephews.
Darrel was preceded in death by his parents; an infant brother; his nephew Tom Lee; and an infant grandson, Griffin Lerum.
The family would like to acknowledge and sincerely thank Daniel and Mary Izsak of Daniel's Adult Care home where Darrel lived and thrived thanks to their selfless care; Housecall Providers, in paretic ular his hospice care providers, Nancy Gregory, Cari Dawson and Taylor Clark.
Memorial contributions may be made to Sunburst Lutheran Church, Housecall Providers, 5100 SW Macadam, Ste. 200 Portland OR 97239 (www.housecallproviders.org) or a charity of your choice.