North Toole County High School
Classes of 1930 - 2015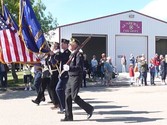 In Memory
Austin Cook - Class Of 1957
Austin Cook, 72, passed away at his home in Anthony, NM, on August 9, 2011. Austin was born on June 22, 1939, and lived in Sunburst through his graduation in 1957 from North Toole County High School. His family was transfered by Texaco to Los Angeles, Ca., but Austin moved to Havre to complete his education as an X-Ray Technologist. After several years in Montana he moved to Southern, California; and then to New Mexico. where he and his wife Jacqi owned a number of race horses up to the time of his death.
His son, Rob, was born in Montana and is a 1980 graduate of North Toole County High School. Austin was last in Montana in 2005 to attend the funeral of his brother-in-law John Jones of Ft. Benton and burial of his uncle Thomas Cook in Sunburst.
Austin was preceded in death by his parents Iva and Bob Cook, long-time residents of Sunburst and his brother Edmund Ashworth (NTHS 1946) who was also raised in Sunburst. Bob Cook worked for Texaco and Iva owned the phone company in Sunburst.
He is survived by his wife Jacqi, his son Rob, two grand children, one great grand child, his sister Bernice Ashworth Jones (NTHS 1952) of Great Falls, brothers Lee Ashworth (NTHS 1950) of Billings and Howard Cook (NTHS 1965) of Clovis, Ca, and numerous cousins, nieces and nephews