North Toole County High School
Classes of 1930 - 2015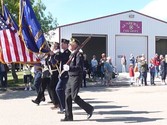 In Memory
Dixie McDermott (Swenson) - Class Of 1954
Dixie Lee (McDermott) Swenson, 76, of Great Falls, died of chronic obstructive pulmonary disease Monday, Aug. 8, at Peace Hospice.
Visitation is 5 to 8 p.m. Sunday at Croxford Funeral Home and Crematory. Her funeral is 11 a.m. Monday at Hillcrest Lawn Memorial Chapel, with burial at Gold Butte Cemetery in Shelby.
Dixie was born in Shelby, on Jan. 14, 1935. She was raised in the Sweet Grass Hills and graduated in 1955 from Sunburst High School. She went on to attend the Columbus Hospital School of Nursing. Dixie worked at the county nursing home for 28 years, until a work injury forced her into early retirement.
She was married to a loving Glenn A. Swenson in 1956.
A woman of many hobbies, Dixie found a world of joy in cooking, baking, knitting and crocheting, dancing, playing cards, and spending time with her numerous grandchildren and great-grandchildren. She will be remembered as a fan of Grizzly football, the Minnesota Vikings, and for being a relentless NASCAR Jamie McMurray enthusiast. Dixie also pulled enjoyment from being a 35-year member of the Eagles Auxiliary No. 14.
Survivors include daughters Mary and Cynthia Swenson, and Evett (Paul) Lawhon, all of Great Falls, and Arla (Tim) Oswald of Green River, Wyo.; son Neil Swenson of Helena; sister Beverly Nash of Cut Bank; brothers Rodney McDermott of Belfair, Wash., Henry McDermott of Shelby, and Ken McDermott of Fairfield; 11 grandchildren and 10 great-grandchildren.
Those who preceded Dixie in death include her husband of 24 years, Glenn A. Swenson; parents Pete and Ruth McDermott; brothers William, Patrick and Peter G. McDermott; sisters Elnora Lammerding, Betty Zell, Rosemary McDermott and Helen Dolezal; and grandson Jason Swenson.
Condolences may be posted online at
www.croxfordfuneralhome.com
and/or
www.gftribune.com/obituaries
.
Published in Great Falls Tribune on August 11, 2011