North Toole County High School
Classes of 1930 - 2015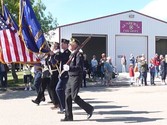 In Memory
Johnny Michaud - Class Of 1954
Johnny Michaud
October 2nd, 1936 - August 11th, 2014
Johnny Michaud, 77, died on August 11th, 2014, as the result of a heart attack. At the time of his death, he was living near Hilo, Hawaii. He is survived by his wife, Francie Michaud, his son, Corey Michaud, daughters, Shawna Michaud and Marcie Lardy, his sister, Diane Michaud, and brother, Joe Michaud. He also has six grandchildren. He was born in Leadville, Colorado to Joseph A. and Marie L. Michaud.
He attended schools in Washington, Idaho and Montana and from the age of 11 was raised on the Kevin, Montana rim. He broke his collarbone when bucked off a horse at age 13. He suffered life long pain from it but saw the bright side of the incident because it got him out of delivering his 8th grade Valedictorian speech and wearing a "monkey suit." He went on to break another 12 bones as a cowboy. He attended one quarter of college at Eastern in Billings, Mt. but decided prospecting would better fit his plans. He joined the Air National Guard while still in high school.
He married Francie Nelson from Cut Bank, Mt. in Cut Bank November 1, 1959.
He worked at the refinery in Anacortes, WA and many cattle ranches across Alberta, Montana and Washington. He and his family homesteaded for a while in British Columbia. He was a genuine cowboy and people were drawn to him because of his quick, dry wit. He became an excellent saddle tree maker while living in Billings but couldn't continue after injuring his hands in a cattle loading chute accident. The finished saddles were purchased by folks including Jane Fonda and Nolan Ryan. He masterminded building his earth home in Basin Creek and displayed a lifetime collection of Western artifacts. His son, Corey, and family moved to the Big Island where Johnny and Francie also moved. While there he became interested in the history of the Hawaiian Islands.
He loved music and was a self taught guitar player. He was a very innovative amateur cook and figured most recipes could be improved by adding alcohol. He was a book lover and particularly enjoyed nonfiction which described the experiences of early explorers and settlers of the old West. He greatly admired Charlie Russell and studied details of his art which he concluded to be accurate! When asked if Hawaii was his favorite place to live, he responded "No, that would be Basin Creek," which is near Billings. He knew a lot of people connected with ranching and the cowboy life. He said he liked the fact that he got to live the life he wanted. Johnny's mother, Marie, said "Johnny was born a 100 years too late."