North Toole County High School
Classes of 1930 - 2015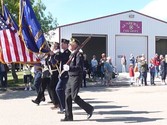 In Memory
Stan Kimmet - Class Of 1954
Beloved family man Stanley William Kimmet, a veteran, 76, of Choteau passed away after a courageous battle of cancer on February 13, 2013 surrounded by his loving family. Stan was a loving husband, wonderful father, great grandpa, caring son, protective brother, and uncle. To Stan, family was his main priority. Stan married Emile Neilsen and they enjoyed 52 years of marriage together and had two daughters. He owned Kimmet Brothers for 40 years with his best friend and brother Jerry (the Brother). Stan spent a lot of time making memories with his family and friends. Stan had a brilliant mind and was always thinking and learning about new things. He could build a house, fix a car, paint a picture, and loved being outside or in the shop.

Stan is survived by his wife Emile of the family home, two daughters, Toni (Larry) Sattler, Choteau and Lorraine (Terry) Evans, Deer Lodge and 4 grandchildren Kyle (Jamie) Sattler of Antigo, WI, Klay Sattler of Great Falls, Nicole (Matt) Hjelm of Billings, MT and Rebecca Evans of Rigby, ID. He also had one great granddaughter Kelsey Raine Hjelm of Billings. Also surviving is His mother Ruth Tomshack Kimmet of Choteau, 2 brothers, Jerry (Peggy) Kimmet of Choteau, MT , Roger (Sally) Kimmet of Spokane, WA and 3 sisters, Bernice (Dick) Beighle of Flathead Lake, Carol (Bob) Woody of Post Falls, ID, Mary Rominger of Lewistown, M, sister-in-law, Barbara Kimmet of Shelby, MT and many aunts, uncles, and cousins.

Stan is preceded in death by his father William Kimmet, brother William (Billy) Kimmet, and his mother-in-law Jean Neilsen.
A Memorial Service will be at 2:00 PM Sunday, February 17, 2013 at the Gorder Jensen Funeral Home in Choteau. Interment of his cremated remains, with military honors will be in the Choteau Cemetery following services.