North Toole County High School
Classes of 1930 - 2015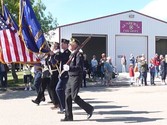 In Memory
Raymond Newmiller - Class Of 1952
CONRAD Raymond Lee Newmiller, 79, died of natural causes Thursday, April 25, at Pondera
Medical Extended Care surrounded by his loved ones.

Funeral service is 2 p.m. Monday, May 6, at Conrad Presbyterian Church. Interment service to follow in Hillside Cemetery. Pondera Funeral Home is handling the arrangements.

Ray was born in Sweet Grass on March 31, 1934, to Bill and Ella (Lozing) Newmiller. Ray graduated from Sunburst in 1952. He married the love of his life, Arlene Baldwin, on Dec. 12, 1952. The couple lived in Sunburst where Ray worked for Texico and later transferred for a short time to Anacortes, Wash. They returned to Montana where Ray farmed in the Valier area. Ray was an avid horseman and the family was active in O-mok-see for several years. Ray enjoyed many years of packing and hunting in the Bob Marshal with his father, sons, son-in-law, grandsons and many close friends. He enjoyed watching rodeos and sports.

Ray and Arlene moved to the Bullhead Community in 1967, where they farmed until retiring in 2006, and moved to Conrad. They enjoyed spending many winters in Arizona with their friends. Ray loved attending any activities of his grandchildren and great-grandchildren. They had five children, Doug (Pam), Ken (Lynn), Shellie (Steve Mellinger), Ron (Vicki) and Scott (Denise)

Ray is survived by Arlene, his wife of 60 years; their five children; 11 grandchildren, Brandon (Vicky), Cameron (Rachael), Luke, Kyle, Jordan, Kevin (Mickie), LeAnn (Weston), Erica (Dru), Heather (Bryce), Brach, Shanae; five step-grandchildren, Adam, Julie, Jeff, Melissa and Jeff (Dayna); 10 great-grandchildren, Bayleigh, Avery, Bridger, Tori, Davyn, Jordan, Deagan, Hayden, Gage and Samantha; two step-great-grandchildren, Ali and Parker.

Ray was preceded in death by his parents; mother-in-law, Esther Robinson; father-in-law, Ed Baldwin; and numerous aunts and uncles.

Published in Great Falls Tribune on April 30, 2013