North Toole County High School
Classes of 1930 - 2015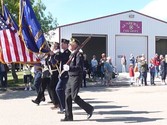 In Memory
Kim Haines - Class Of 1952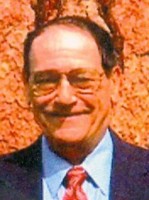 1934–2013 SEELEY LAKE – Kim Lew Haines passed away after a battle with cancer on Saturday, Feb. 9, 2013, at Community Medical Center in Missoula at the age of 78.
He was born March 25, 1934 in Havre, but because his dad worked various jobs, Kim attended grade schools in Havre, Dunsethe, N.D., Sweet Grass and his high school years in Sunburst. His love of sports and athletic abilities led him to letter in track, basketball, football, baseball and badminton in high school. He played the accordion, piano and ukulele by ear, but was most proud that he played trombone in the high school band in the Rose Parade.
He attended the University of Montana but switching his major to education, he transferred to Northern Montana College to play basketball and do track. There he earned all conference honors and one of his teams made the NAIA playoffs. He put his education on hold in 1955 and joined the Army. While in the military police in Berlin, he competed in the 1956 CISM Meet to qualify for the Olympic Games.
After an honorable discharge, he returned to Northern to complete his degree. During his senior year, he met the love of his life, Zelda Richter. After graduating in 1960, they married that September and lived in Havre for three years, where he taught algebra and biology and coached JV basketball, football and track at Havre High School. Here he developed a teaching style that inspired and encouraged students. Although money was tight, he managed to put Zelda through college. While in Havre, their first child was born, and he felt a need for more education. He received a Sputnik Grant for science and math teachers at the University of Northern Iowa, where he completed his master's degree.
Hired by Missoula County High School to teach and coach at Seeley-Swan High School (a new school that wasn't finished until December), he was intrigued by the challenge of developing a new school. In the beginning, he taught all the math and science and coached all the sports. In 1965, they added principal to his teaching and coaching duties. Kim was committed to making the school the best high school in the state, both in academics and extracurricular activities. In 1968 his basketball team won the state championship, putting this young school on the map.
In 1969 after going summers, he earned his administrative credentials from Washington State University in Pullman. Opportunities arose to go to larger schools, but he loved the Seeley-Swan community, school and its surrounding beauty. One who had moved around so much called this home and the perfect place to raise his young family. Also, Kim loved the hunting, fishing, and getting wood with his family and friends. He served on the Seeley-Ovando-Swan (SOS) Hospital District Board, studied and became an EMT and drove ambulance with nurse Wilma Nicholson for many years in the Seeley-Swan community.
During his 37 years at SSHS, he worked tirelessly to give students an education, set goals and graduate (especially troubled teens who needed his guidance and support). He took great pride in the high school graduation rate, high academic achievement and championship basketball, football, cross-country and track teams and super music programs.
Kim also became actively involved in the development and organization of track and field across the state and nation. Taking his Western Montana Track Club (made up of his talented family and other talented youth across the state) to many national meets, he created many wonderful memories. He was past president of the Montana Association, chairman of Youth Multi-Events, chairman of USATF Youth Athletics, Master Certified Track Official and served many years on the Board of Directors until the present time. In 1999 he organized and accompanied a USATF youth team (15-17 years old) to the first international competition in Poland, and the second in Hungary. Besides presenting seminars and programs for the Native American Sports Council on reservations, he assisted in obtaining a grant from Johnson & Johnson to develop programs on the reservations and inner-cities. He was a moving force in youth track and field.
Retiring in 2001, he felt the need to coach boys' basketball again. One year at Wolf Point, three years at Conrad and three years at Drummond, along with his Seeley-Swan wins, he amassed a record of 670 of just boys' varsity basketball wins. He was recognized with many awards: Coach of the Year in boys' basketball, track and field, and induction into the Montana Coaches Hall of Fame and also Northern Montana University's Athletic Hall of Fame. In recent times he helped his sons coach basketball and track in the grade school and high school.
In his retirement, Kim loved planting and tending flowers with his grandson Tyler around Seeley Lake's light poles.
Kim was preceded in death by his father Merle Haines, mother Fern Cameron and infant granddaughter Lauren Haines. Survivors include his wife of 52 years, Zelda Haines; sisters Bonnie Mutchler (Earl) of Pablo, Nan Guenzler of Bigfork and Debbie Haines of Hardin; sons Michael (Virginia) and Brett (Julie) of Seeley Lake; daughter Shauna of Great Falls; grandchildren Haley, Cameron, Chase, Gavin, Tyler, Tanner Beall, Michael and Kyra Wisherd; and many nieces and nephews.
There will be a memorial service at 1 p.m. Sunday, March 10, at Seeley-Swan High School. In lieu of flowers, a fund has been established at First Valley Bank titled "The Kim Haines Memorial Fund" for contributions toward a scholarship in Kim's memory. Contributions can be made to First Valley Bank, P.O. Box 720, Seeley Lake, MT 59868.