North Toole County High School
Classes of 1930 - 2015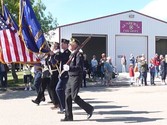 In Memory
Owen Dornblaser - Class Of 1951
Owen Mark Anton Dornblaser, 77, a Navy veteran and retired postmaster, died of natural causes Monday, the 31st of May, 2010, at Hillside Manor in Missoula.
His memorial service is 2 p.m. June 12 at St. Luke's Lutheran Church in Shelby. Burial will be in Mountain View Cemetery, followed by a reception at the church social hall. Garden City Funeral Home of Missoula is in charge of arrangements.
Owen was born May 29, 1933, in Shelby, Mont., and raised in Sunburst, graduating from high school in 1951. He spent two years in the Navy, and always joked that he joined the Navy to see the world and spent the whole two years in a Nevada desert.
He graduated from Montana State University with a degree in animal husbandry, and worked for MSU for 12 years, traveling all over eastern Montana grading wool. He was a diehard Bobcat fan. Most of his family were Griz fans, so they had many conversations and laughs over the Cat-Griz rivalry. Dornblaser Field was named after Owen's cousin, Paul Dornblaser, a Grizzly great in 1910.
Owen moved back to Sunburst and became the postmaster. In 1971, he moved to Vaughn and worked as postmaster until he retired in 1995. To be closer to family, Owen moved to Missoula in 2006, and lived at the Missoula Manor for three years, until he was no longer able to care for himself.
Owen had a passion for leather tooling, and made many beautiful wallets and purses for family and friends.
Owen was truly a gentle soul. Throughout his years, he made many lifelong friends and was known for his kindness and gentle spirit.
He was preceded in death by his parents, Owen and Nellie Dornblaser of Shelby; and a half-brother, Tyde Mummy of Las Vegas; as well as many aunts and uncles. He is survived by aunts Mildred Gillie of Bellevue, Wash., and Mary Good of Fort Benton; as well as many cousins and numerous friends.
He will be laid to rest next to his parents in Shelby. His sense of humor, laughter and kindness will be missed.