North Toole County High School
Classes of 1930 - 2015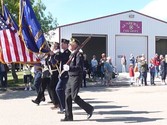 In Memory
Lee Ashworth - Class Of 1950
BILLINGS —Norman Lee Ashworth was born April 1, 1932, in Great Falls, to Iva and Norman Ashworth. He passed away peacefully May 14, 2013, in Billings.

After the death of his father, Lee's family moved to Sunburst, where he grew up and attended school from first to 12th grade.

Lee married Marlene Anderson in 1952. They had two daughters, Marla and Ronna. He worked as a carpenter and contractor and then went to work for the post office. He moved his family to Billings in 1967.

After retiring in 1985 because of failing vision, Lee continued to keep active. He loved doing things with family and friends: running, hunting, fishing, skiing, hiking, working on cars and just visiting.

Following the death of his wife, Marlene in 1998, he met and married Margaret "Peggy" Setters. They had almost 14 years together.

Lee was diagnosed with Alzheimer's in 2011 and this, added to his blindness, made his world a much smaller place.

Lee was preceded in death by his father; his mother; stepfather Robert Cook, Jr.; wife Marlene; brothers Edmund Ashworth and Austin Cook; and grandson Anthony Bell.

He is survived by his wife, Peggy; daughters Marla (Rick) Stanich and Ronna (Tom) Bell; grandchildren Josh (Sayoko) Huisenga and great-grandson Ken, Peter (Imee) Huisenga, Stacey (Josh) Smith and Shane Bell and great-granddaughter Khloe; sister Bernice Jones; brother Howard (Sandy) Cook; sister-in-law Jacqui Cook; stepchildren Jille Hall and her children Michael and Julianna, Larry (Lesa) Setters and their son Robert, and Teresa (Larry) Seder and their children Ellen and Austin; and his cousins, nieces and nephews. Family meant everything to Lee.
Memorial contributions may be made to the Montana Association for the Blind and their Summer Program, PO Box 465, Helena, MT 59624-0465; Talking Books, Montana Talking Book Library, 1515 E. Sixth Ave., PO Box 201800, Helena, MT 59620-1800; Alzheimer's Association , Montana Chapter, 3010 11th Ave. N., Billings, MT 59101; or the charity of your choice .
We would also like to thank all of those people who were so kind to Dad as Alzheimer's took hold of his life, especially those who would see him wandering and bringing him safely home, and all of the people at Highgate who cared for him. You were all his angels.

Memorial services are 2 p.m. Monday at Michelotti-Sawyers Mortuary, 1001 Alderson Ave.

Condolences may be left online at
Published in Great Falls Tribune on May 17, 2013