North Toole County High School
Classes of 1930 - 2015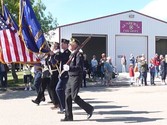 In Memory
Mary Chase (Murphy) - Class Of 1945
Mrs. Mary Gertrude (Chase) Murphy, August 11th, 2002.
Mrs. Mary Gertrude (Chase) Murphy, 74, a former Sunburst resident, passed away August 11 at her home in Vancouver, WA. Funeral services were held August 17 at St. Joseph Catholic Church in Vancouver with interment following at Evergreen Memorial Gardens Cemetery. Memorial Gardens Funeral Chapel was in charge of arrangements.
Mary was born on September 2, 1927 in Anthon, Ohio. She graduated from Sunburst High School in 1945 and moved to Vancouver in 1965, where she served as a business office manager at the Vancouver Clinic for 28 years.
She was a member of St. Joseph's Catholic Church and the Women's Credit Association and enjoyed bowling, travel and making porcelain dolls.
She is survived by two daughters, Patricia Ellis and Beverly Brown, both of Vancouver, two sisters, Audrey Bergman of Arizona City, Ariz. and Evelyn Danner of Denver, Colo., and four grandchildren. She was preceded in death by a son, Ronald Murphy, and a sister, Lillian Linnell.