North Toole County High School
Classes of 1930 - 2015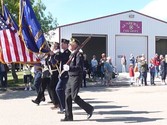 In Memory
Bill Siler - Class Of 1942
William (Bill) Siler, former police chief of Lewiston, passed away peacefully at home in Lewiston, Idaho, Thursday, Feb. 26, 2009.
Bill joined the Lewiston police force as a patrolman in 1951. He was promoted to sergeant in 1959, to juvenile officer in 1960 and to lieutenant in February 1962. He was named chief in December 1962. He retired from the police force Dec. 31, 1975, after 25 years, 13 of them as chief.
Bill, a resident of Lewiston, Idaho, was 85 at the time of his death. He graduated from Sunburst High School (1942), as did his two brohters and sister,
Bill is surved by his wife, Sheryl Siler, son Brian Siler and Family, daughter Denise Connolly and Husband Dick, and sister Fern (Harvey) McAllister and Husband Lee. He was preceded in death by his daughter Diane, his son Dexter, brothers Sidney (NTCHS 1937) and Gail (NTCHS 1939), his sister Mildred Ashworth (NTCHS 1933) and his great-granddaughter Rylie Moore.
Tiffany Ashworth - great neice
9 August 2009