North Toole County High School
Classes of 1930 - 2015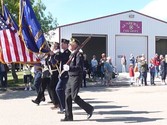 In Memory
Jay Johannsen - Class Of 1942 VIEW PROFILE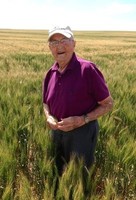 Jay Alan Johannsen passed away January 8, 2016, at home on his farm with his family by his side.
Memorial service will be held at the Sunburst United Methodist Church on Saturday, January 23, 2016, at 11:00 a.m. In lieu of flowers, donations to the Shriners Children's Hospital are appreciated. Arrangements entrusted to Whitted Funeral Chapel in Shelby. Please visit Jay's online memorial and leave a message of condolence for the family at www.whittedfuneralchapel.com.
Jay was born in Shelby, Montana on December 26, 1923 to Cleve and Lillie Johannsen. He joined an older brother, Russell, and an older sister Virginia. He was the youngest in the family for only 18 months when his sister Margie was born. He had a happy and busy childhood in Sunburst. He was an excellent student, an Eagle Scout and proud Sunburst Refiner. Despite his smallish stature, he was an excellent basketball player and his coach became a lifelong mentor. World War II interrupted his college career and after one year at Montana State, he enlisted in the army. Given his education level and ability to drive he was assigned to cryptanalyst training and promptly put on a troop ship for a Pacific location undisclosed to him. He ultimately was stationed in the interior of China after a harrowing plane ride over "the Hump", the WWII term for the Himalayas. After living two years in China, he came home via the Port of Seattle and jumped a train, stood the entire way home until Montana's wide open plains came into view. Through the GI Bill, he got his start in farming. He was recalled to the service for the Korean War and was stationed in Spokane before shipping off to Japan. He was fortunate to be introduced to his cousin Lyla's best friend, Beverly Watts and his life changed forever. She became his bride in 1952.
"Jay and Bev" became nearly one word to everyone who knew them and they enjoyed 61 years of marriage before Bev's passing in 2013. They were wonderful and patient parents to Tracy, Jay Dean, Paul and Kristi. Jay was a gentle, loving father to all of his children but they knew there was a line they didn't cross. However, even when each of them flirted with that line, all four were confident that he was always there for them. He became the role model in parenting and life to all of his children.
Jay was a world traveler, first courtesy of the Army Air Corp but later on a more voluntary basis. He and Bev had many travels often with their dear friends, Paul and Pattie Coolidge, to Asia, Europe, Central America among other locales. He and Bev were fortunate to spend thirty winters in Mesa, Arizona with many good friends.
Jay was so many things. He was an extraordinary farmer, businessman, carpenter, mechanic and pilot. He was a gadget guy and daredevil. He was a steadfast, dependable, honest man who was universally respected. Jay was a long time Mason and Shriner. He donated countless hours and time to the Shriner's Hospital in Spokane. He was a lifetime member of the Sunburst Methodist Church. He was an Eagle Scout with his Court of Honor in 1938, making him one of Montana's oldest Eagle Scouts.
Jay is survived by his four children and grandchildren Bennett, Amelia, Jace, Zach, Jordan, Cassi, Justine, Amanda and Greg. He will be dearly missed by many.
Click here to see Jay's last Profile entry.