North Toole County High School
Classes of 1930 - 2015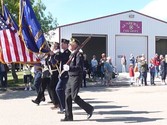 In Memory
Leona Halter (Burkett) - Class Of 1942
We lay to rest our loving wife, mother, sister, grandmother, great grandmother, and friend. Leona was born in Yakima, Washington in 1924. Soon after her birth, her mother died. She and her twin sister were adopted by her Aunt, Maude Halter and husband Bill.
While attending the University of Montana, the sisters performed as a dance team to promote the sale of war savings bonds, traveling throughout the state. They also participated in variety shows for GI's, who were receiving cadet training at the University. During their college years, the sisters also played in the University and Elks' bands for charitable and patriotic functions and participated in entertainment as troops were passing through the city. Leona received her B.A. in Music from the University of Montana.
In 1947, Leona married Robert A. Burkett, the love of her life. They moved back to Sunburst, Montana where Bob went into business with Leona's father. While her three children were young, Leona stayed at home teaching private piano lessons and directing the church choir. She also helped to organize the first parent teachers' organization in the Sunburst schools.
Leona's educational career was richly diversified. She taught in a one room schoolhouse in Ferdig, Montana, grades 1-8. As she furthered her education, receiving a degree in Elementary Education., she became an elementary school teacher in Lewiston, Pocatello, and Boise. She went on to get a Degree in Administration and was a Principal at numerous schools in Boise (Highlands, Campus, McKinley, and Longfellow). Leona was active in Lions' International Organization and was President of the Boise Monarch Lions' Club.
As an educator, Leona touched the lives of many students, fellow administrators, co-workers, and members of the community. She was honored as "Portrait of a Distinguished Citizen" for the city of Boise, Idaho in1976.
Leona was an accomplished musician throughout her life, and aside from her love of family and teaching, music was her passion.
Leona was a church organist for many churches, a past Matron of the Order of Eastern Star, a member of The State Education Department Needs Assessment Committee, and a member of Delta Kappa Gamma, an honorary teachers' service society.
Leona leaves behind her husband, Bob, after 62 years of marriage; her twin sister, Leota Halter Nichols of Sunburst, Montana; daughter and husband, Michelle and Terry Fein of Sammamish, Washington; daughter Janelle Curtis and her husband, Dick, of Boise; son Mike Burkett and his wife, Kaydeen, of Boise. She will forever be loved by her grandchildren, Jeff Curtis, Jessica CurtisTolini, and Kayte Curtis, Brooke and Bryan Loesby, Rachel and Phillip Burkett and great -grandchildren, Tyler Ware and Nico Tolini.
In lieu of flowers, the family requests that any donations be made to the Church of the Nazarene, 2701 S. Five Mile Road in memory of Leona Burkett and the music ministry; or donations could be given to Four Rivers Hospice, 415 North Curtis Road, Boise, Idaho 83706. Services will be held December 5, 2009 at 1:00 p.m. at the Five Mile Church of the Nazarene 2701 S. Five Mile Road Boise, Idaho.

Published in the Idaho Statesman 02 December 2009