North Toole County High School
Classes of 1930 - 2015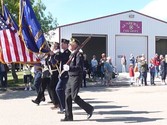 In Memory
Ulene Kohles - Class Of 1942
Burlington, Wash. —Ulene E. Lund, 89, passed away peacefully at Mira Vista Care Center on Friday, August 9, 2013, surrounded by her family and caring staff at Mira Vista.
Ulene was born March 5, 1924 in Sunburst, the daughter of Emil and Lena Kohles. She was born and raised on the family farm in Sunburst, where she lived with seven sisters and brothers. She graduated from Sunburst High School until she married the love of her life, Ronald Lund. They were blessed with four lovely daughters.
Ulene and the family moved from Sunburst to Burlington, Wash., in 1958 so Ronald could relocate with the Texaco refineries.
In 1980 Ulene was baptized as a member of the Burlington Jehovah's Witness congregation becoming a respected friend and sister to all.
Thank you all for your support and prayers during Ulene's illness.
Ulene is survived by four daughters and spouses, Vicky (Bob) Boheman of Conway, Rohene (Ron) Soini of Sedro-Woolley, Jackie Paul of Sedro-Woolley and April (Joe) Conger of Mount Vernon; Sister Milly (Sam) White of Cascade and numerous grandchildren and great-grandchildren.She was preceded in death by her husband, Ronald; her parents, Emil and Lena Kohles; and brother and sisters.
The family suggest memorials be made to Children's Hospital or the charity of your choice.