North Toole County High School
Classes of 1930 - 2015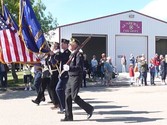 In Memory
Robert Doggett - Class Of 1941
Robert (Bob) Doggett
Bob passed away in December 1974 from a brain tumor. He was survived by one son, Ronald, and two daughters, Cindy and Kathy.
Bob served in the US Marine Corps during World War II, where he was deployed to the South Pacific. After his service, he was honorably discharged with the rank of Technical (Gunnery) Sergeant.
Bob was number two of ten Doggett children to attend and graduate from the Sunburst School system, now known as North Toole County School.
What great memories we have all carried over the years. I hope and pray you can all say the same.
Stay well-live long
By his brother, Ralph (John) Doggett