North Toole County High School
Classes of 1930 - 2015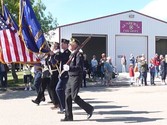 In Memory
Kathryn Larson - Class Of 1940
Deceased Classmate: Kathryn Larson Christensen 1940
Date Of Birth: Nov.-6-1923
Date Deceased: Aug.-19-2005
Age at Death: 81
Cause of Death: Injuries from a fall
Classmate City: Springfield
Classmate State: OR
Classmate Country: USA
Was a Veteran: Yes Army
Survived By: Sons- David, Mark, Philip, James and Timothy Grandsons-Christopher, Matthew and Daniel Granddaughter-Toni and 5 Great grandchildren.

Kathryn, graduated in 1940, at 16 years of age and had to wait 2 years until she was old enough to go to nursing school in Great Falls. At 23 she Joined the U.S. Army as a nurse and was stationed in Paris and then the Army Hospital in San Francisco, where she met dad. On Feb 1, 1949, she became Mrs. Bill Christensen. They moved to Sunburst to live and work on the family farm east of town. In 1965 we moved to Eugene, Oregon. She went back to nursing and took an early retirement so she could care for her aging father (Ed Larson). After Ed's death, dad developed Alzheimer,s and mom still couldn't rest. Ha passed in 1997. Unable to care for the house and yard she sold and moved to Canby, Or. She fell and broke her hip, and was on the mend in a nursing home in Springfield,Or When ever the nurse tried to help someone and fell and broke her hip again. She succumbed to her injury 2 days later. Finally got to rest.
Provided by Mark Christensen