North Toole County High School
Classes of 1930 - 2015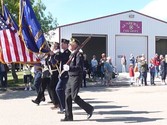 In Memory
Anna Flo Schmidt (Kathman) - Class Of 1938
Former Hastings resident Anna F. (Schmidt) Kathman, 81, of SilverRidge Assisted Living Community in Gretna, Nebraska, died Wednesday, April 9, 2003.
Mrs. Kathman was born May 1, 1921, to Carl and Ada (Byford) Schmidt in Winnett, Montana. Following her graduation from Sunburst High School in 1938, she moved to Helena, Montana, where she was employed at the Mountain View School for Girls. On May 19, 1942, she married George A. Kathman at St. Mary's Catholic Church in Helena. In 1944, they moved to a farm south of Lawrence, Nebraska, where they farmed until their retirement in 1979. They then moved to Hastings, Nebraska. Her husband died October 15, 2002.
She is survived by two sons, David of Superior, NE, and Dennis of Bellevue, NE; and four daughters, Kathryn Dunagan of Lincoln, NE, Linda Miner of Cedar Falls, IA, JoAnne Kathman of Omaha, NE, and Laura Hermsen of Gretna, NE; 12 grandchildren; and one great-grandchild.
She was preceded in death by her sister, Eleanor Virginia (Schmidt) Jablonski.