North Toole County High School
Classes of 1930 - 2015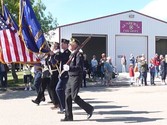 In Memory
Alma Seekins (Manuel) - Class Of 1932
SEELEY LAKE - Margaret Alma Manuel, 92, of Seeley Lake, passed away at home on May 5, 2006.
Alma was born in Elbow, Saskatchewan, on Jan. 25, 1914, to Benjamin and Isabelle Kerney Seekins.
When she was 6 months old, the family moved to Forsyth where Alma's brother Del and sisters Elsie and Frances were born. After the death of their mother, the family moved to Sunburst where they lived with their grandmother.
In 1937, Alma married Randy Manuel of Browning. They later moved to Browning, where they owned and operated the telephone company for 26 years.
After retirement in 1966, they moved to the east shore of Flathead Lake and later moved to Bigfork.
In 1998, Alma moved to Seeley Lake to be closer to family.
She was preceded in death by her husband of 43 years, Randy, and her sister Frances.
She is survived by her daughters, Barbara Galbreath (Ken) of Babb and Caroll White (Jim) of Seeley Lake; granddaughters Holli Galbreath of Browning, Wendy Weasa of Mesquite, Nev., and Christine White of Missoula; great-grandson Slater Henkle of Browning; sister Elsie Allen of Texas; brother Del Seekins of California; and nieces and nephews.
She will always be loved and missed.
Cremation has taken place at Livingston-Malletta & Geraghty Funeral Home of Missoula. Dispersion of the remains will take place at a later date.