North Toole County High School
Classes of 1930 - 2015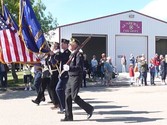 In Memory
Mike Taft - Class Of 1981
Mike Taft passed away on May 2, 1998.
After graduating in '81 he went into the National Guard. He married Diane Farris in 1984, then attended college in Havre where he obtained a degree in industrial arts. Then moved to Boise in 1985, and worked for Boise Cascade. Later on he moved back and worked for Triangle Farms in Oilmont. Mike and Diane divorced in the late eighties, and moved back to Sunburst. He worked on the family farm. He then took the Glocca Morra Cafe over in 1993. He also worked for transload services, northern telephone, suta supply, and the city of sunburst.
Mike passed way on May 2, 1998. He was buried July 4, 1998 with family present.
He loved the great outdoors; the hunting videos will never be forgotten. Chelsea was always of course his best four legged friend! Mike had a heart of gold!! He loved his family and friends more than anything.