North Toole County High School
Classes of 1930 - 2015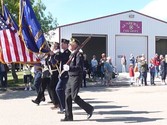 In Memory
Lanette Maxwell (Mitchell) - Class Of 1968
HELENA — Darlene Lanette Mitchell (Honeydew), 68, died in Helena on Jan. 7, 2019, due to COPD. She was born in Shelby on May 8, 1950, to Jess and Ethel Maxwell (Christopherson), who resided in Sunburst, Montana.
Lanette worked at Anthony's, Cenex, Jore and the liquor store in Ronan.
Her favorite things to do were bowling, horseshoes, going to soak at Hot Springs, and attending stock car and drag races. She also enjoyed road trips to the coast.
She was preceded in death by her parents and her brother Neil.
She is survived by her husband, George A. Mitchell; her children and grandchildren, Shane and Mandy Andersen (Jessica, Zachary and Kenny), Shad and Tricia Andersen (Jaycee, Shad, Kelton and Bennan), Chancey and Stewart Fladagee (Koda, Shy, Morgan, Amy and Sophia), Michelle Mitchell (Kimberly and Karli), Dennis and Shelly Parker, and Ron Mitchell. She is also survived by her siblings, Doris Hofeldt, Jerry Maxwell, Gloria and Ted Suta, Kay Hedalen, Irene and Gary Cady, Dianne Anzalone and Sandy Bucher.
A celebration of her life will be held on Jan. 20, at 2 p.m., at the Leon Club House in Charlo.