North Toole County High School
Classes of 1930 - 2015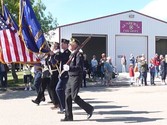 In Memory
Wes Ekstrom - Class Of 1961
PLAINS – Our beloved husband, father, grandpa, great-grandpa and friend, Wes Ekstrom of Plains, passed away surrounded by family and friends on Wednesday, Dec. 9, 2009, from a long battle with emphysema at the age of 69.
Wes was born on Sept. 18, 1940. He was raised by BW "Red" and Dolores Court in Sweetgrass and Great Falls, and graduated from high school in Sunburst, in 1961. He was also an Eagle Scout with the Canadian and U.S. Scout Troops in Sweetgrass.
He enlisted in the Army in 1963 and served with the 553rd Eng 11th Air Assault Division in Europe. He was honorably discharged in 1965.
After his discharge, he married the love of his life Leona Whisennand in June of 1965. They lived for 10 years in Great Falls, where he worked at the smelter. They moved to Plains in 1975, where they purchased the garbage route known as WAE disposal for the next 17 years. In 1977, they also took ownership of the Llano Theatre for the next 25 years. Wes attended the Montana Law Enforcement Academy in 1993 in the class of basic 85 and was the second-oldest person to graduate from the police academy. He served as a patrolman for the town of Plains and was a deputy for Sanders County.
Wes loved his wife and three daughters very much. They meant the world to him. Wes touched many lives with his love for life. He was a gracious and funny man and always had a story to tell. He had a great love for animals.
Wes was preceded in death by his father BW "Red" Court; his brother Bob Court; and his mother-in-law Catherine Whisennand.
He left behind his wife Leona; daughters Cathy (Shawn) Emmett and Suzy (Doran) VonHeeder all of Plains, and daughter Laurie (Dave) Mussetter of Commerce City, Colo.; Dolores Court, his mother; sisters Wanieta (Jerry) Genge and Chris Sabatino, all of Illinois; his father-in-law Herman Whisennand of Plains; and brothers-in-law Charles (Edith) Whisennand and Jim (Kristen) Whisennand; and sisters-in-law, Margaret Whisennand and JoAnne (Dave) Colyer; grandchildren, Brooke, Cassy, Dustin, Bryson, Jessica, Colton, Aaron and Peyton; and one great-granddaughter, Kaitlyn. He is also survived by numerous extended family members.
Memorial services will be held at 3 p.m. Saturday, Dec. 19, at the Assembly of God Church in Plains. Graveside services will be presented by VFW Post 3596.
He is at peace and with the Lord and will be surely missed by all who knew him and loved him.
Published in the Missoulian 15 December 2009.