North Toole County High School
Classes of 1930 - 2015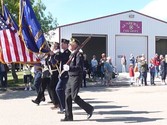 In Memory
Bruce Sharp - Class Of 1966
Bruce J. Sharp passed away on Saturday, Oct. 8, 2016, in Hamilton, MT.
He has been cremated and currently no services have been planned.
Bruce was born in Shelby on May 7, 1947, to Harvey and Rose Sharp of Kevin. He was raised in North Toole County and graduated from North Toole County High School. Bruce was a Vietnam veteran, serving as a Combat Medic with Marine Infantry Units during the war. [Note: The training requirements that a Naval Corpsman undergoes before serving as a Combat Medic with the Marines are described below.]
He is survived by his sister, Denice Sebek; niece, Stacey Keyser; nephew, Edward C. Sebek; and two cousins, Warren Sharp and Trel Sidoruk.
Posted: by the Shelby Promoter, Wednesday, November 2, 2016 6:00 am
==========================================
Marine Training of a Naval corpsman Serving as a Combat Medic in a Marine Infantry Unit
The standard to become Corpsman in the Marine Corps is a little confusing, as the Marines use Navy Corpsmen for their missions. But the Navy Corpsman serving in a Marine Unit is for all intents and purposes a Marine, and is treated like a Marine by other Marines and by everyone whom they have contact with. So the Marines and the Navy Team up in training corpsmen for the Marine Force Fleet. Candidates for Marine Fleet Corpsman have to attend a 7 week course that is much like Marine Boot camp in makeup at Camp LeJeune, North Carolina.
The Marines have a saying, Every Marine is a Rifleman, and that extends to Navy Corpsmen serving in Marine Units, corpsmen have to learn to carry a rifle and how to use it as well. Marines need qualified medical personnel on the battlefield and thats why the Field Medical Service School exists. For a Corpsman to be effective he has to earn the right to be regarded as a fellow Marine, and that can be an eye opening experience to many Navy Corpsmen unfamiliar with Marine Corps ways. For a Corpsman to be effective in a Marine Corps unit he has to be someone that the other Marines know and trust. He has to be able to lay down cover fire, dig a hole, or do whatever other Marines in his unit are doing toward accomplishing the mission.
The top priority for a FMSS corpsman is to learn to save Marine Corps lives, but they have to be accepted by the unit in which they work. They learn to look like Marines, act like and function just as other Marine Corps personnel function, despite in reality being Navy Corpsmen assigned to a Marine Corps Unit. Much of this need to be a Marine is not understood by those who have not experienced it, but it is vital to the success and cohesiveness of the unit. Navy corpsmen are expected to have the same combat knowledge and skills as Marines.
==========================================
From Bruce's Sister, Denice:
My brother Bruce Sharp passed away in early October. He served his country as a medic in Viet Nam.
He was a good brother, uncle and friend to many.
I want to thank all who have posted notes of sympathy and coldolences.
Denice Sharp Sebek