North Toole County High School
Classes of 1930 - 2015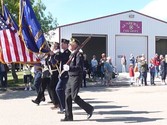 In Memory
Sandy Maxwell (Bucher) - Class Of 1970 VIEW PROFILE
Sandra "Sandy" Fay Bucher, 66, of Conrad, passed away on Friday, Feb. 15, 2019, at Benefis Peace Hospice, after her courageous battle of pancreatic cancer, with her two loving sons by her side.
A memorial service will be held at 1 p.m. on Saturday, Feb. 23 at the Conrad High School Auditorium in Conrad. Please join the family in honoring Sandy by wearing her favorite color, red.
Sandy was born on March 6 , 1952 in Shelby, the youngest of nine children, to Jess and Ethel Maxwell. She was raised in Sunburst, where she graduated high school. After high school, she attended college at Northern Montana College in Havre, to pursue her degree in Elementary Education. There she met Steve Bucher, whom she married in July 1972 and had two sons, Scott and Stacy. They were later divorced.
After completing her degree, she was given the opportunity to pursue her passion in Warrick. Here she taught four students in a one-room schoolhouse, two of them being her own children. There were many fun memories made during their two years there. Sandy and her boys then moved to Conrad, where she was an elementary teacher at the Brady School in Brady. She later went on to touch and shape many young lives while teaching at Head Start in Conrad. She ended her career as an Employment Specialist with the Shelby Job Service, after inspiring and guiding many individuals into their career paths.
Sandy was known by many and loved by all who knew her. She was known for her genuine smile, contagious laugh, and caring heart, but most importantly, her love for her boys, Scott and Stacy, and her five grandchildren. In every conversation, with everyone she talked to, she could be heard bragging about them and expressing how proud they made her. They were the light of her life and the sparkle in her eye. Among the ultimate love for her family, Sandy could often be found sitting on her back deck, drinking coffee and bird-watching. It brought her great joy to see the birds that frequented the bird bath that Scott made for her. It was surely the most well-tended bird bath in town, as she delighted in ensuring the water was always fresh and welcoming, sometimes changing it several times a day.
Sandy also enjoyed gardening, quilting, sewing, making Christmas cookies with her granddaughter, Brynn, and of course, her love for all things red.
Sandy is survived by her two sons, Scott (Jamie) Bucher and Stacy (Erin) Bucher; five grandchildren, Dylan, Josiah, Brynn, Liam, and Ellisyn; siblings, Doris Hofelt, Jerry (Laura) Maxwell, Gloria (Ted) Suta, Kay Hedalen, Irene (Gary) Cady, and Diana Anzalone; and numerous nieces and nephews.
Sandy is preceded in death by her parents; brother, Neal Maxwell; and sister, Lanette Mitchell.
Condolences can be made to Sandy's memorial page at www.asperfh.com.
Click here to see Sandy's last Profile entry.